Nutrition for Sport, Exercise, and Health by Marie Spano & Laura Kruskall & D. Travis Thomas
Author:Marie Spano & Laura Kruskall & D. Travis Thomas [Spano, Marie] , Date: March 18, 2018 ,Views: 3111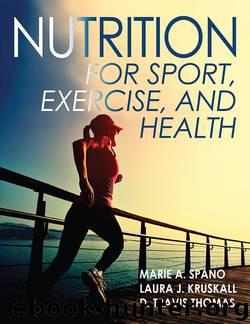 Author:Marie Spano & Laura Kruskall & D. Travis Thomas [Spano, Marie]
Language: eng
Format: azw3
ISBN: 9781450414876
Publisher: Human Kinetics
Published: 2017-08-03T04:00:00+00:00



Human Growth Hormone
Human growth hormone (hGH) is naturally released in the body, with its highest secretion during the adolescent growth spurt. Deep sleep, heat stress, hypoglycemia, and exercise stimulate endogenous release. Human growth hormone in its natural form requires a prescription and is intended to treat a limited number of medical conditions, including short stature, Turner syndrome, Prader-Willi syndrome, muscle wasting from AIDS, and growth hormone deficiency. Prescription and distribution of this drug is tightly regulated. Taking hGH for nonlegitimate medical reasons (e.g., to enhance performance or for anti-aging benefits) while not under the supervision of a licensed physician or medical practitioner permitted to prescribe these substances might be illegal. Some athletes use hGH in an attempt to improve cardiorespiratory fitness, increase skeletal muscle mass, reduce fat mass, or recover more quickly from injury. The side effects associated with hGH are numerous, including depression, fluid retention, and with long-term use, acromegaly (chronic elevated levels of hGH in the body). Symptoms of acromegaly include swelling and subsequent abnormal growth of the hands and feet; overgrowth of bone in the face (protruding of the brow and lower jaw, enlargement of the nasal bone, and spacing of the teeth); carpal tunnel syndrome; and enlargement of body organs, including the heart. Still other symptoms might include joint pain; coarse, oily skin; skin tags; enlarged lips, nose, and tongue; voice deepening; sleep apnea; excessive sweating and foul odor; fatigue and weakness; headaches; impaired vision; decreased libido; erectile dysfunction in men; and menstrual cycle abnormalities or breast discharge in women. Many of these symptoms develop with long-term use and elevated hGH levels. Currently, it remains unclear whether higher doses over a shorter time, as used by some athletes, would result in the same level of side effects (17, 30).
Download


Copyright Disclaimer:
This site does not store any files on its server. We only index and link to content provided by other sites. Please contact the content providers to delete copyright contents if any and email us, we'll remove relevant links or contents immediately.