The Gulag Archipelago (Vintage Classics) by Aleksandr Solzhenitsyn
Author:Aleksandr Solzhenitsyn [Solzhenitsyn, Aleksandr] , Date: November 19, 2018 ,Views: 1569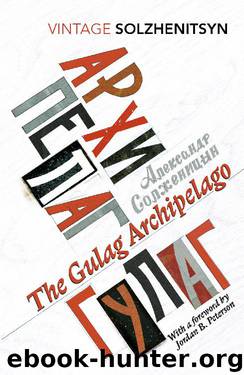 Author:Aleksandr Solzhenitsyn [Solzhenitsyn, Aleksandr]
Language: eng
Format: epub, mobi
Publisher: Random House
Published: 2018-11-02T00:00:00+00:00



Chapter 8
Women in Camp
And how could one not think of them, even back during interrogation? One day, one of the Butyrki jailers was fussing with a lock, and left our men's cell to stand half a minute at the windows in the well-lit upper corridor, and, peering underneath the "muzzle" of a corridor window, we suddenly saw down below, in the little green garden on a corner of asphalt, standing in line in pairs like us—and also waiting for a door to be opened—women's shoes and ankles! All we could see were just ankles and shoes, but on high heels! And it was like a Wagnerian blast from Tristan and isolde. We could see no higher than that and the jailer was already driving us into the cell, and once inside we raved there, illumined and at the same time beclouded, and we pictured all the rest to ourselves, imagining them as heavenly beings dying of despondency. What were they like? What were they like!
But it seems that things were no harder for them and maybe even easier. I have so far found nothing in women's recollections of interrogation which could lead me to conclude that they were any more disheartened than we were or that they became any more deeply depressed. The gynecologist N. I. Zubov, who served ten years himself and who in camp was constantly engaged in treating and observing women, says, to be sure, that statistically women react more swiftly and more sharply to arrest than men and to its principal effect—the loss of the family. The woman arrested is spiritually wounded and this expresses itself most often in the cessation of the vulnerable female functions.
But of course for all of us, and for women in particular, prison was just the flower. The berries came later—camp. And it was precisely in camp that the women would either be broken or else, by bending and degenerating, adapt themselves.
In camp it was the opposite—everything was harder for the women than for us men. Beginning with the camp filth. Having already suffered from the dirt in the transit prisons and on the prisoner transports themselves, the woman would then find no cleanliness in camp either. In the average camp, in the women's work brigades, and also, it goes without saying, in the common barracks, it was almost never possible for her to feel really clean, to get warm water (and sometimes there was no water at all). There was no lawful way a woman could lay hands on either cheesecloth or rags. No place there, of course, to do laundry!
A bath? Well! The initial arrival in camp began with a bath—if one doesn't take into account the unloading of the zeks from the cattle car onto the snow, and the march across with one's things on one's back surrounded by convoy and dogs. In the camp bath the naked women were examined like merchandise. Whether there was water in the bath or not, the inspection for lice, the shaving
Download


Copyright Disclaimer:
This site does not store any files on its server. We only index and link to content provided by other sites. Please contact the content providers to delete copyright contents if any and email us, we'll remove relevant links or contents immediately.