The Dynasty by Jeff Benedict
Author:Jeff Benedict [Benedict, Jeff] , Date: September 5, 2020 ,Views: 234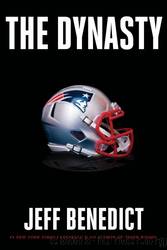 Author:Jeff Benedict [Benedict, Jeff]
Language: eng
Format: epub
ISBN: 9781982134129
Published: 2020-09-02T00:00:00+00:00



twenty-eight
TRANSCENDENCE
The Patriots opened the 2007 season like racehorses coming out of a starting gate. Standing in the tunnel in Giants Stadium while waiting to be introduced before the first game against the Jets, Brady couldn't wait to unleash. Running back Kevin Faulk pulled receiver Donté Stallworth aside. "Stay away from Brady before we walk out," Faulk warned. "He's gonna head-butt the shit out of you. He's too fired up." Moments later, Brady screamed: "Let's fuckin' go!" and hammered his helmet into Stallworth's helmet, knocking him back. "Shit!" Stallworth thought. "This dude is serious."
On the first drive, Brady marched the offense ninety-one yards on twelve plays, capping the drive off with a touchdown strike to Wes Welker. Moss was open all day, catching nine passes for 183 yards. At times it seemed like the Patriots were toying with the Jets. On one play, Brady audaciously launched a pass fifty-one yards through the air into triple coverage. Moss caught it in stride and glided into the end zone for a touchdown. New England won going away, 38–14.
But the behind-the-scenes gamesmanship between the Jets and Patriots quickly overshadowed what had transpired on the field. In a conspicuous move that would have far-reaching repercussions, Jets coach Eric Mangini decided to call out Bill Belichick for violating a rule in the NFL's Game Operations Manual. The rule prohibited teams from using video recording devices on the field during games. It was intended, in part, to prevent the filming of opposing defensive coaches as they used hand signals to communicate which defense to play on each snap. Unlike offensive coaches, who communicate plays to the quarterback through an in-helmet communication device, defensive coaches signal plays in from the sideline.
It was common practice to try to decipher an opposing team's defensive signals. For example, a Patriots scout seated in the press box could look through binoculars at a Jets coach while whispering into a handheld audio recorder—"four minutes remaining second quarter, second-and-five, left hand to shoulder, back down to knee, up to hat." That was permissible. But a year earlier, the league had issued a memo specifically reminding teams that the rulebook forbade capturing that same kind of information with a video camera.
Mangini suspected that Belichick was ignoring the memo. During the first half of the Jets game, twenty-six-year-old Patriots video assistant Matt Estrella had been stationed behind the Patriots' bench with a camera that was aimed at the Jets' sideline. Right before halftime, Estrella left the field and was heading to the Patriots' locker room when he was stopped by Jets security personnel. Estrella's camera and film were confiscated, and he was led to an office occupied by law enforcement officials, who were on site to police the stadium.
Mark Briggs, the Patriots' security chief, came to Estrella's aid. A no-nonsense former military officer, Briggs demanded the return of the tape. When Jets officials pushed back, the argument got so heated that a couple of state troopers stepped in to deescalate the situation.
Right before the start of
Download


Copyright Disclaimer:
This site does not store any files on its server. We only index and link to content provided by other sites. Please contact the content providers to delete copyright contents if any and email us, we'll remove relevant links or contents immediately.