Three-Ring Circus by Jeff Pearlman
Author:Jeff Pearlman , Date: September 24, 2020 ,Views: 585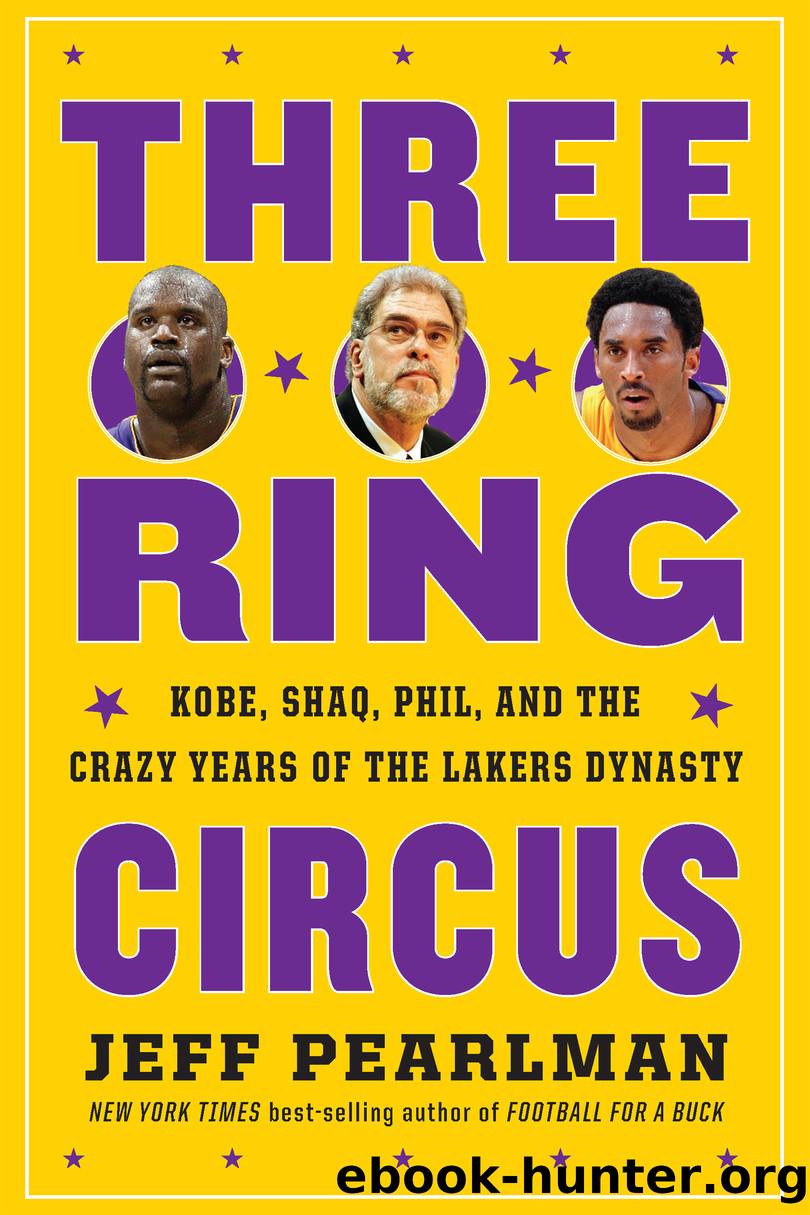 Author:Jeff Pearlman
Language: eng
Format: epub
ISBN: 9781328530660
Publisher: HMH Books
Published: 2020-09-22T00:00:00+00:00



"About $20,000," Savage said.
"I've got the cash in my locker," O'Neal said. "Stay and it's yours."
Though touched, Savage left.
For all his empathy and decency, as well as a profound need to be loved, O'Neal had two Kryptonites.
One, free throw shooting, would haunt him throughout a 19-year NBA run.
The other, Kobe Bryant, was far worse.
Over the first four years of the guard's career, teammates recoiled at his arrogance, his indifference. But between the end of the 1999–2000 season and the start of the 2000–01 season, something changed. It was akin to watching a middle-aged person with bad habits become a senior citizen and having those habits turn significantly more pronounced. A loud talker grows louder. An argumentative curmudgeon becomes increasingly curmudgeonly. Though Bryant was only 22, he behaved as if he were a 10-year veteran. Especially galling was his treatment of rookies. The Lakers were not a team that harassed newcomers. Never had been. But Bryant lacked the maturity to know better. Penberthy, for example, was four years his senior, yet Bryant took pride in barking at him, belittling him, showing him what was what. "He wanted people to be scared of him," Penberthy said. "I got knocked out of a game in Venezuela by some crazy former prison guy because I scored 27 in the first half. There were defected Russian players who hated America and wanted me dead. Kobe? I wasn't scared of Kobe."
Penberthy earned his stripes when Bryant missed a couple of free throws during a practice. "C'mon," the rookie said, "you've gotta make those."
"Shut the fuck up," Bryant replied. "If you played some defense, you'd get more minutes."
"Okay, Kobe," Penberthy said. "Talk trash to a rookie. It's what you do."
The back-and-forth continued, and when the session ended, Penberthy followed Bryant to the locker room.
"You wanna say something?" he barked. "I'm right here."
Bryant walked off, head down.
Once upon a time, O'Neal loved the big brother–little brother model, where he'd guide and mold and encourage young Kobe in a sort of Batman and Robin setup. But now he realized it was an impossibility. Bryant was, truly, unbearable. The way he needed to challenge J.R. Rider from the day he arrived. The way he needed to belittle Penberthy. The way he, once again, was hogging the basketball, dribbling without looking up, turning the triangle into a piece of warped cardboard. Bryant wanted other players to share his intensity, but no one shared his intensity. O'Neal, in particular, had spent the months after his first ring celebrating as he had never celebrated before. "While Kobe shot jumpers," the author Elizabeth Kaye wrote, "Shaq feasted on the fried shrimp, mayonnaise, ketchup, and cheese concoctions he called Shaq Daddy sandwiches. He took his posse to Las Vegas, gave them $10,000 for the gambling tables, and kept hours that gave him headaches . . . That summer, as Shaq sightings occurred at what he called gentlemen's clubs and at Fatburger at three in the morning, that notion—you are what you repeatedly do—still had application."
The Lakers opened their title defense with a 6-4 record; the locker room felt cold, hostile, detached.
Download


Copyright Disclaimer:
This site does not store any files on its server. We only index and link to content provided by other sites. Please contact the content providers to delete copyright contents if any and email us, we'll remove relevant links or contents immediately.