Einstein: His Life and Universe by Walter Isaacson
Author:Walter Isaacson [Isaacson, Walter] , Date: August 10, 2020 ,Views: 985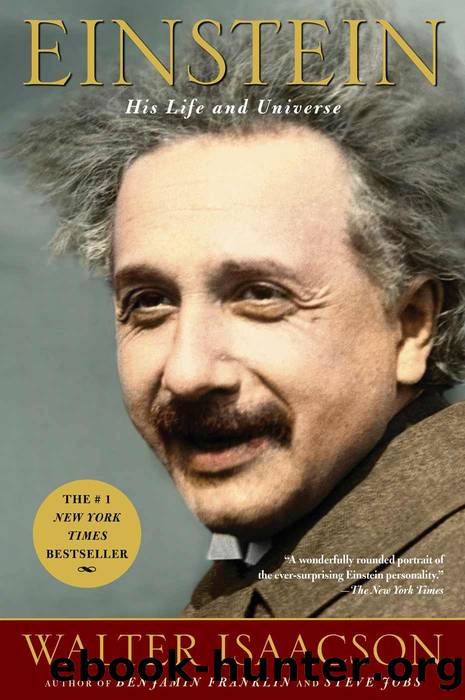 Author:Walter Isaacson [Isaacson, Walter]
Language: eng
Format: azw3
Publisher: Simon & Schuster
Published: 2007-04-09T16:00:00+00:00



CHAPTER SIXTEEN
TURNING FIFTY
1929–1931
Einstein's house in Caputh near Berlin
Caputh
Einstein wanted some solitude for his fiftieth birthday, a refuge from publicity. So in March 1929 he fled once again, as he had during the publication of his unified field theory paper of a few months earlier, to the gardener's cottage of an estate on the Havel River owned by Janos Plesch, a flamboyant and gossipy Hungarian-born celebrity doctor who had added Einstein to his showcase collection of patient-friends.
For days he lived by himself, cooking his own meals, while journalists and official well-wishers searched for him. His whereabouts became a matter of newspaper speculation. Only his family and assistant knew where he was, and they refused to tell even close friends.
Early on the morning of his birthday, he walked from this hideaway, which had no phone, to a nearby house to call Elsa. She started to wish him well on reaching the half-century mark, but he interrupted. "Such a fuss about a birthday," he laughed. He was phoning about a matter involving physics, not the merely personal. He had made a small mistake in some calculations he had given to his assistant Walther Mayer, he told her, and he wanted her to take down the corrections and pass them along.
Elsa and her daughters came out that afternoon for a small, private celebration. She was dismayed to find him in his oldest suit, which she had hidden. "How did you manage to find it?" she asked.
"Ah," he replied, "I know all about those hiding places."1
The New York Times, as intrepid as ever, was the only paper that managed to track him down. A family member later recalled that Einstein's angry look drove the reporter away. That was not true. The reporter was smart and Einstein, despite his feigned fury, was as accommodating as usual. "Einstein Is Found Hiding on His Birthday" was the paper's headline. He showed the reporter a microscope he had been given as a gift, and the paper reported that he was like a "delighted boy" with a new toy.2
From around the world came other gifts and greetings. The ones that moved him the most were from ordinary people. A seamstress had sent him a poem, and an unemployed man had saved a few coins to get him a small packet of tobacco. The latter gift brought tears to his eyes and was the first for which he wrote a thank-you letter.3
Another birthday gift caused more problems. The city of Berlin, at the suggestion of the ever-meddling Dr. Plesch, decided to honor its most famous citizen by giving him lifelong rights to live in a country house that was part of a large lakeside estate that the city had acquired. There he would be able to escape, sail his wooden boat, and scribble his equations in serenity.
It was a generous and gracious gesture. It was also a welcome one. Einstein loved sailing and solitude and simplicity, but he owned no weekend retreat and had to store his sailboat with friends. He was thrilled to accept.
Download


Copyright Disclaimer:
This site does not store any files on its server. We only index and link to content provided by other sites. Please contact the content providers to delete copyright contents if any and email us, we'll remove relevant links or contents immediately.