Unfinished: A Memoir by Priyanka Chopra Jonas
Author:Priyanka Chopra Jonas [Jonas, Priyanka Chopra] , Date: February 21, 2021 ,Views: 2751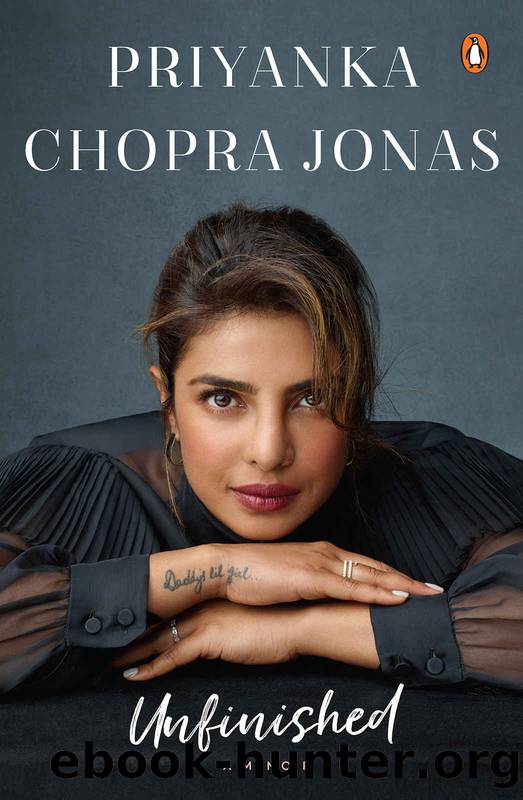 Author:Priyanka Chopra Jonas [Jonas, Priyanka Chopra]
Language: eng
Format: epub
Tags: Biography & Autobiography, Personal Memoirs, Cultural; Ethnic & Regional, Asian & Asian American, Entertainment & Performing Arts, Music, Rich & Famous, Women, Social Activists, Social Science, Popular Culture
ISBN: 9788194525998
Google: XdUWEAAAQBAJ
Publisher: Penguin Random House India Private Limited
Published: 2021-02-08T20:30:00+00:00



BY THE TIME I'd been working for a few years, I'd fallen in love with the work and with the industry. It no longer mattered much if I had to wait around for hours for my male co-­actors to make it onto set; it didn't matter if I was wearing a flimsy chiffon sari in the snow, or a fur jacket in the heat of Mehboob Studio in Mumbai; it didn't matter if a hundred people watched me while I danced in the streets. I was in love with the movies. I often chose not to return to my trailer between shots, preferring instead to stay on set. I delighted in the hustle and bustle of movies being made.
So much of filmmaking, I realized, was about feeling confident, and I also realized that knowledge is a key to confidence. If you have the knowledge of something, you can walk into almost any room and hold your own. I relished honing my skills, learning and improving and growing. I loved taking lines of dialogue and transforming them into a multidimensional person with a past and a future and a unique take on the world. I developed a hunger for seeing how many personalities I could create, and how different they could be. Wondering what kind of person I'll be breathing life into next is one of the many things that keep me excited about this job of mine.
One of the ways I developed my skills was through studying my co-­actors and my directors. I'd watch the directors and try to figure out why they made certain requests or decisions, even on the technical side of filmmaking—­why would the director of photography choose a certain lens or want a change in lighting, for instance, or why would he suddenly go from a wide shot to a close-­up—­and that started giving me a larger lens through which to look at the way stories are told in this medium.
The more I studied my co-­actors, the more I became convinced that the actors who made the most lasting impressions were the ones who did two things. First, they truly listened in every one of their scenes rather than just waiting to say their lines. Acting is primarily re acting truthfully in the moment, and that is dictated organically by what your co-­actors do. Second, they found ways to communicate multiple thoughts and feelings simultaneously. In my experience, only children have isolated emotions. If a little child is angry, he's angry. If she's excited, she's excited. But as we evolve into adults, our emotional and intellectual capacities broaden and deepen, and expressing this complexity is one of the jobs of the actor. Think about it. Say you're having a terrible argument with your sister because you've discovered that she's been telling your parents hurtful lies about you. You might be furious at her, and you also might be feeling deeply betrayed. And of course you still love her. You've discovered her lies just as you were about to leave for an important appointment and now you're worried that you're going to be late.
Download


Copyright Disclaimer:
This site does not store any files on its server. We only index and link to content provided by other sites. Please contact the content providers to delete copyright contents if any and email us, we'll remove relevant links or contents immediately.