The Stranger in the Lifeboat by Mitch Albom
Author:Mitch Albom , Date: November 12, 2021 ,Views: 1206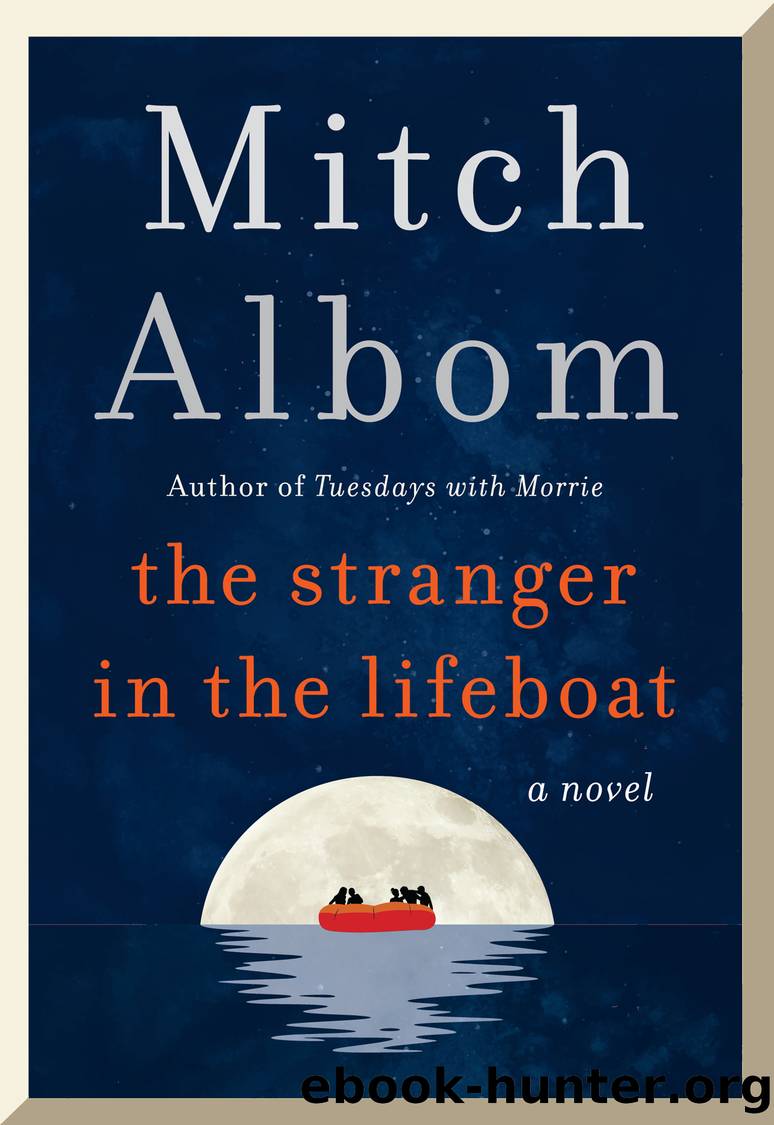 Author:Mitch Albom
Language: eng
Format: epub, mobi
Publisher: Harper
Published: 2021-10-22T00:00:00+00:00



Land
LeFleur chugged the remainder of his coffee and killed the engine on his jeep. The morning was cloudless and the forecast was for hot, steamy weather.
As he carried his briefcase to the front door of the station, he was already thinking of what hours he could carve out to continue reading the notebook. He had barely begun when Patrice interrupted him. But he'd read enough to know something strange had happened on that life raft, when they discovered a man floating in the sea:
Nina touched his shoulder and said, "Well, thank the Lord we found you."
Which is when the man finally spoke.
"I am the Lord," he whispered.
LeFleur had been perplexed enough by the mere existence of this notebook—and all the questions it raised about the Galaxy sinking—but now he felt compelled to learn the passengers' reaction to this self-proclaimed deity. LeFleur had a long list of issues he would raise with God, should he ever have such an encounter. He doubted God would like them.
He thought about Rom. He'd told him to come by the office around noon. The guy doesn't even have a cell phone. As he pushed the station door open, two figures quickly rose to their feet. One was a rather large man in a navy suit and open-collared shirt. The other LeFleur recognized immediately. His boss. Leonard Sprague. The commissioner.
"Jarty, we need to talk," Sprague said.
LeFleur swallowed hard. "My office?" he said. He chided himself for sounding defensive.
Sprague was a puffy older man, bald and bearded. He'd had the job for over a decade. Normally he and LeFleur met at headquarters, every couple of months. This was the first time he had come to LeFleur's place.
"Am I to understand you found a raft from the Galaxy?" he began.
LeFleur nodded. "I was just writing up my report—"
"Where?" the other man interrupted.
"Excuse me?"
"Where did you find the raft?"
LeFleur forced a grin. "Sorry, I didn't get your name—"
"Where?" the man snapped.
"Tell him, Jarty."
"North shore," LeFleur said. "Marguerita Bay."
"Is it still there?"
"Yeah. I had the locals—"
But the man popped up and was heading to the door. "Let's go," he barked over his shoulder.
LeFleur turned to Sprague. "What the hell is going on?" he whispered. "Who is this guy?"
"He works for Jason Lambert," Sprague said. He rubbed his thumb against his fingers. Money.
Download


Copyright Disclaimer:
This site does not store any files on its server. We only index and link to content provided by other sites. Please contact the content providers to delete copyright contents if any and email us, we'll remove relevant links or contents immediately.