Crossroads by Kaleb Dahlgren
Author:Kaleb Dahlgren , Date: March 21, 2021 ,Views: 232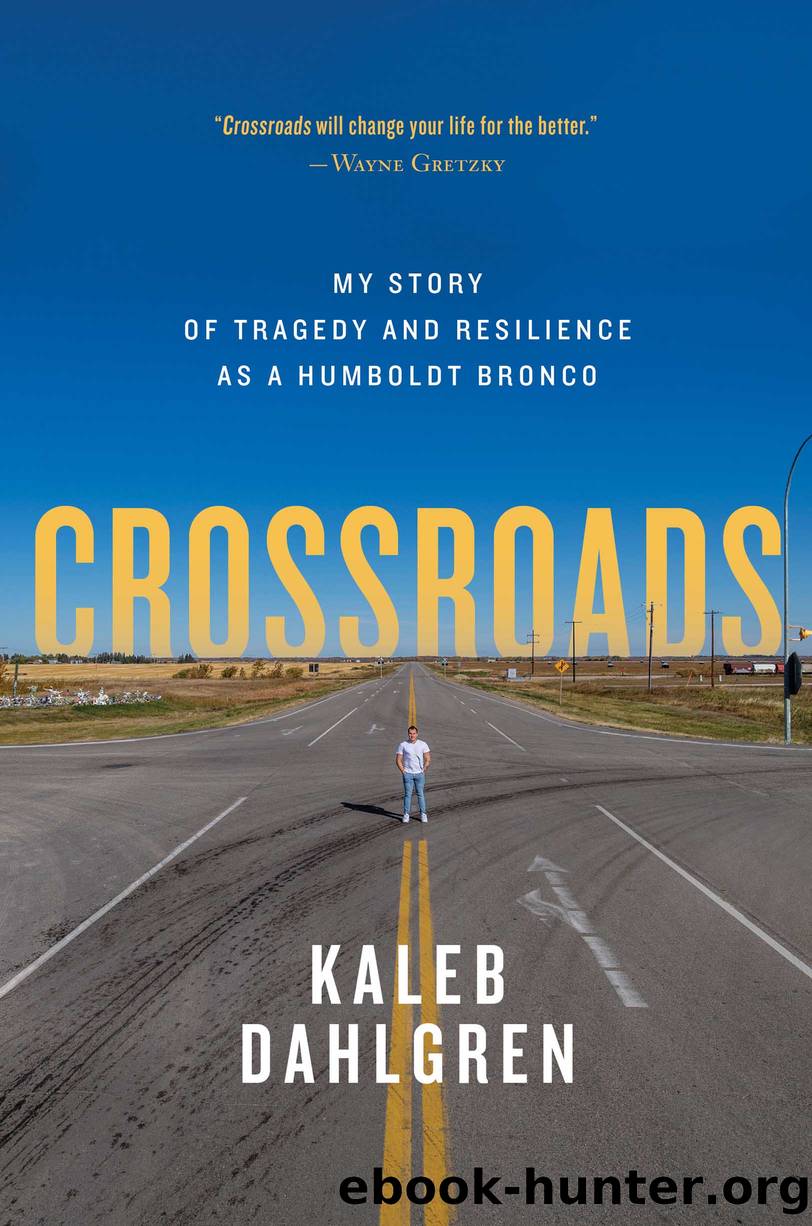 Author:Kaleb Dahlgren
Language: eng
Format: epub
Publisher: HarperCollins Publishers
Published: 2021-01-29T00:00:00+00:00



Chapter 13
Tell me I'm dreaming.
I still have no memory of the tragedy that has been imprinted on my life forever.
My parents have had to fill in the blanks for me, as they did that day and would have to do for several days to come.
My parents were told that my neck was broken, I had a fractured skull and a possible brain injury, and both of my femurs were shattered. The right side of my skull had an enormous puncture wound and was partially degloved, meaning a large part of the skin and hair had been torn from my scalp. I had cuts all over my body from head to toe. There were tiny shards of glass under my skin, which would remain embedded in me for years. There was a 5C marking next to my left eye—an impression from the decal indicating a seat seven rows ahead of mine. But I was breathing. I was talking. My parents felt the relief of realized hope. They knew that I'd not only survived, but that I had a chance of recovering.
However, as those early minutes together passed, Mom and Dad grew increasingly concerned that I had suffered a traumatic brain injury. The bandages wrapped around my head covered the extent of the physical injury, but my erratic speech, mood, and memory were enough for them to know something was wrong. I was not my normal self—I never swear and for sure don't speak to people in that harsh tone. My face was flat, almost blank. I mostly kept my eyes closed. No expression of emotion on my face. I wouldn't smile or frown. I just was stoic—until another rush of pain would hit, and then I would start excessively cursing again. My parents had never heard me like that. I continued to ask why I was there—and kept believing I had been hospitalized for a game-related injury. As nurses, my parents knew enough about brain injuries, and specifically the issues that can arise from bleeding and intracranial pressure, to know that things can go south very quickly.
A nurse finally gave me something for the pain, which would settle me down for about twenty minutes until I'd need another dose. Once some people had been airlifted to Royal University Hospital in Saskatoon, I was moved out of the office and back into the emergency department at the Nipawin Hospital. A doctor and a nurse were assigned to stay with us the whole time.
Dad's phone kept buzzing. It seemed like everyone we knew was trying to reach us. Word had spread on social media that I had died, and people were sending their condolences. My parents' answering machine was flooded with messages from people who thought I had died. One of my good friends, Wyatt Tyndall, who was at Penn State, called. So did my old roommate Michael Korol, who was studying in Vermont. Wyatt Grant, who was in Phoenix; Connor Ingram, who was in upstate New York State; Jarrett Fontaine, who was in Langley; and Evan Weninger, who was in Omaha, all texted.
Download


Copyright Disclaimer:
This site does not store any files on its server. We only index and link to content provided by other sites. Please contact the content providers to delete copyright contents if any and email us, we'll remove relevant links or contents immediately.