The Greatest Game Ever Played by Mark Frost
Author:Mark Frost [Frost, Mark] , Date: December 27, 2020 ,Views: 203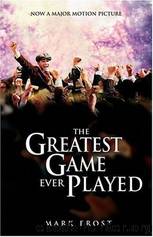 Author:Mark Frost [Frost, Mark]
Language: eng
Format: epub
Tags: History, Biography
ISBN: 9780786869206
Google: KGO9ZrUIGQcC
Goodreads: 714510
Publisher: Hyperion
Published: 2002-01-01T06:00:00+00:00



IN HIS SHORT life Eddie Lowery had watched Francis play a total of two complete rounds of golf and one sixth of a third—some good, some indifferent, today's first three holes appalling—but he'd never seen him catch fire. By 11:30 on Thursday morning, word filtered back to them through the gallery grapevine that a number of players ahead were posting lower scores than those seen through either day of qualifying. Eddie realized that if Francis maintained this current level of ineptitude, it wouldn't be long before the entire field lapped him and Eddie would be right back in West Newton Falls Elementary School. He rummaged through his limited catalog of life experience for the right piece of advice.
"Okay, we just gotta settle down now, Francis," he said. "What are we gonna do to turn this around?"
In every competitive round, in every tournament that begins to slip away, a player finds himself at a final point of no return; he either reverses course or kisses his chances good-bye. Francis Ouimet had just felt his back bump against that wall, and he didn't have to turn around to read the writing on it. The way he responded now would determine the course of the rest of his life.
Francis looked at Eddie and smiled. "I guess I'm just going to have to play better," he said.
"That'd be a good place to start," said Eddie.
As they reached the fourth hole, Eddie noticed a change come over Francis. He walked to the next tee up on his toes again. An outgoing intensity in his eyes replaced the hollow reserve with which he'd started the day. He set up to the ball with a more upright angle to his spine. The difference was subtle, unnoticeable to anyone who hadn't been watching him acutely, but profound. To Eddie's eyes, Francis looked like a different man.
And then he killed his tee shot. Stuck his approach on the green. Two-putted for par, his first of the day. The same at five, then six, picking up momentum as his pace of play increased. The forward lean came back into his stride. He smiled again and radiated purpose. The wise words of Vardon echoed through him; Francis wasted no energy in the niceties of social lubrication with playing partner Karl Keffer. Eddie hardly said a word to him beyond his mantric "keep your head down," sensing anything more wouldn't even penetrate the force field Francis had around him now.
Francis's swing still hadn't fallen into the effortless free-swinging ease he'd found when at his best that summer, but there were more ways to get around a golf course than sheer unconscious brilliance. To survive the morning he would have to play a blue-collar grinder's round, working for every shot, each par a product of sweat, desire, and tenacity. The crowd adored him for it. His younger sister Louise and brother Raymond had been part of the gallery all morning. They found watching Francis in his element out here an eye-opener, deeply thrilling
Download


Copyright Disclaimer:
This site does not store any files on its server. We only index and link to content provided by other sites. Please contact the content providers to delete copyright contents if any and email us, we'll remove relevant links or contents immediately.