White House Inc. by Dan Alexander
Author:Dan Alexander [Alexander, Dan] , Date: September 24, 2020 ,Views: 856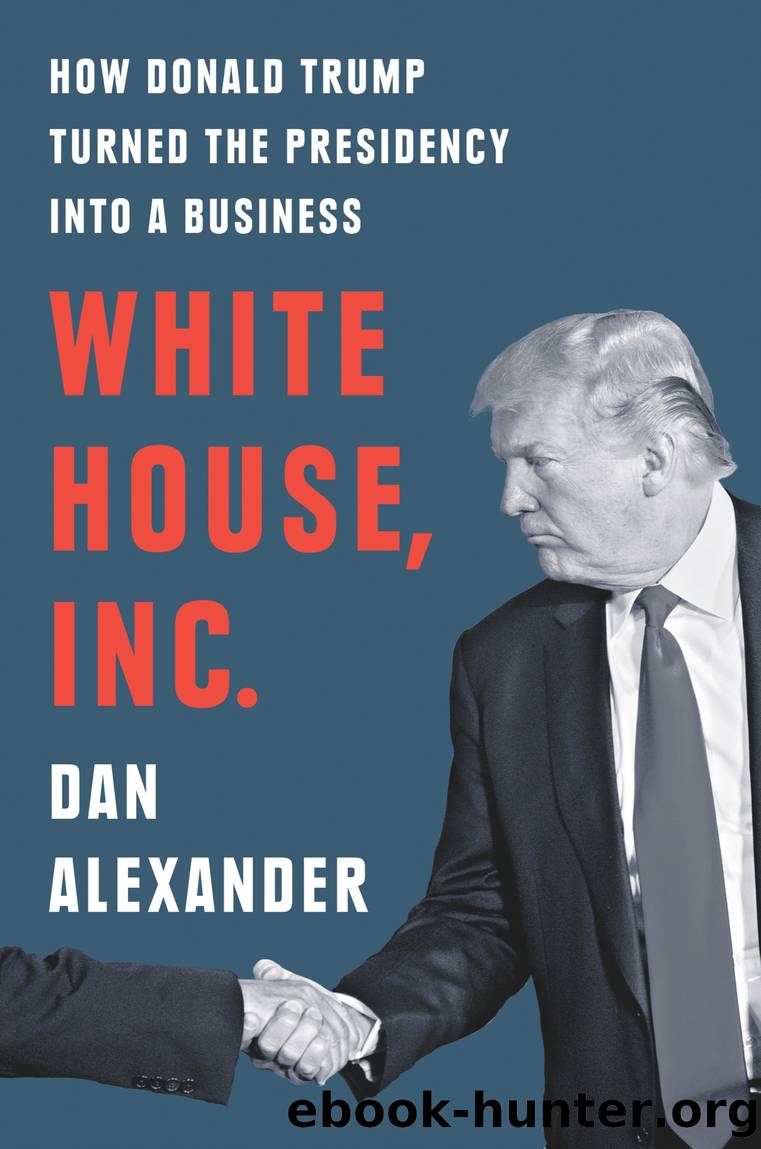 Author:Dan Alexander [Alexander, Dan]
Language: eng
Format: epub
Publisher: Penguin Publishing Group
Published: 2020-09-22T00:00:00+00:00



* * *
• • •
In 1990, Ross found himself tangling with a young casino titan44 named Donald Trump. The freewheeling days of the 1980s45 had led to a slew of corporate bankruptcies; Ross, then at the investment bank Rothschild Inc., had built a reputation as one of the top restructuring advisers in the country.46 Regardless of who he was representing, Ross's clients generally tended to come away with a fair share. "Wilbur, to me, was the master negotiator," says David Storper, Ross's former right-hand man, speaking on the record about his old boss for the first time. "Because he could end up picking somebody's pocket across the table, but they would also end up thanking him for it."47
The Trump Taj Mahal, in Atlantic City, was descending into bankruptcy,48 which was bad news for Ross's client, an insurance company holding the casino's debt. On November 15, 1990, Ross talked with Carl Icahn, who also held about $155 million of the debt.49
Together, Ross and Icahn settled on a plan: the casino would enter into a prepackaged bankruptcy, and Trump would hold on to 50% of the equity. Ross and Icahn presumably could have knocked out the young mogul, but they instead kept him around, leaving Trump quite satisfied: "I think [Ross] is very talented, a fantastic negotiator."50
Ross collected hefty fees doing this kind of work, an estimated $6 million or more annually, but there was more money to be made. In 1997, while still working at Rothschild, he became a principal rather than a mere adviser, launching a $200 million private equity fund to invest in sick companies. Three years later, Ross bought out the fund and turned it into his own private equity shop—WL Ross & Co.51 At 62 years old, an age at which most financiers are winding down, Ross was gearing up.52 "He was just a workaholic," says Storper. "I mean, this is a guy that would call me up on a Thursday and be like, 'Why isn't the office open?' And I'm like, 'Because it's Thanksgiving.'"53
The hustle paid off. In 2001, Ross's firm began zeroing in on American steel companies. At first, WL Ross bet against the industry, shorting stocks so that he would make money if they fell. After they did, Ross began betting that he could profit off a resurgence. In Cleveland, he found a steel giant named the LTV Corporation that had recently declared bankruptcy. The company was struggling with a massive pension plan,54 but Ross recognized that he could scoop up assets and leave the federal government stuck with pension liabilities.
To make sure the plan would work, Ross and his colleagues reached out to companies in the auto industry, who assured them that they would buy LTV products. Ross's team also met with unions, who agreed to loosen up labor restrictions with the understanding that WL Ross would bring back roughly half of the 7,500 jobs that had disappeared after the business went bankrupt.55 And Ross met with officials inside the Commerce Department, concluding that George W.
Download


Copyright Disclaimer:
This site does not store any files on its server. We only index and link to content provided by other sites. Please contact the content providers to delete copyright contents if any and email us, we'll remove relevant links or contents immediately.