American Kompromat by Craig Unger
Author:Craig Unger [Unger, Craig] , Date: January 30, 2021 ,Views: 726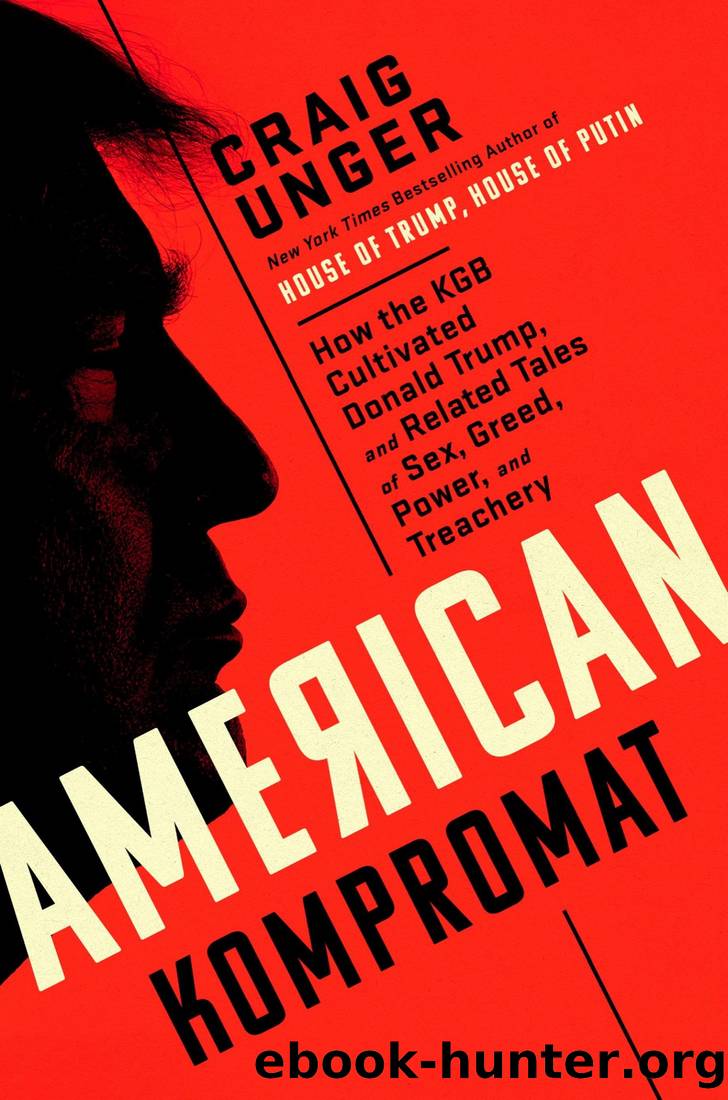 Author:Craig Unger [Unger, Craig]
Language: eng
Format: epub
ISBN: 9780593182550
Google: s80AEAAAQBAJ
Publisher: Penguin
Published: 2021-01-26T00:00:00+00:00



* * *
—
Trump was often the center of Ghislaine's attention, and women who entered Trump's orbit sometimes ended up being associated with both Trump and Epstein, spending part of their time living in a Trump Tower condo and part in Florida, at Mar-a-Lago or one of Epstein's homes.
Among them was Russian model and beauty pageant contestant Anna Malova,18 whose journey from the world of beauty pageants and modeling to Trump's Mar-a-Lago and Epstein's island retreat is highly suggestive in terms of how Epstein and his associates began manipulating young women.
In the early nineties, before coming to the United States, Malova had placed well in several beauty pageants—coming in second in Miss Russia 1993 and winning the 1994 Miss Baltic Sea title later that year.19 Then in 1995 she left Moscow, spent six weeks learning English in St. Petersburg, Florida (not Russia), and was profiled in the Tampa Tribune as "reigning Miss Russia."20 And before long, she met Donald Trump.
Notwithstanding the fact that Trump was still married to his second wife, Marla Maples, Anna moved into a thirtieth-floor condo in Trump Tower on Fifth Avenue.21 There, according to an item in the New York Post, her lavish accommodations were taken care of "courtesy of an unidentified sugar daddy."
Not long afterward, in October 1996, Trump bought three beauty pageants from ITT Corp.: Miss Universe, Miss USA, and Miss Teen USA.22
A little more than a year later, in 1998, Malova competed in the Miss Universe pageant representing Russia. According to the Honolulu Star-Bulletin, Malova faltered badly when she was asked to compare Russia's television and culture with Ghana's—and couldn't come up with an answer.
Malova was stumped. "She pulled a Chernobyl," said one observer. "She's history."23
Malova made the finals anyway, but, as New York magazine noticed, there was an anomaly in the very fact she had even entered the pageant. "Oddly, Anna Malova was allowed to compete in this year's contest (1998) even though she was Miss Russia in 1995," the magazine reported. "According to beauty-world sources, it's not a coincidence that the stunning Slav, who wound up a finalist in last month's event, is a friend of Donald Trump, co-owner of the event.
"Did the Donald pull a few strings on his old friend's behalf? . . . While the Miss Universe camp insists that Malova won the Russian event honestly, Malova's agent said, 'I don't think she was Miss Russia this year. She was Miss Russia several years ago.'"24
When the magazine asked for documentation that Malova had won the title a second time, the Miss Universe Pageant headquarters declined to furnish it. Trump could not be reached for comment, but a spokesperson said, "I haven't heard about Trump giving any preferential treatment to Malova."
In the meantime, however, she spent time with both Trump and Epstein. According to documents submitted to a Florida court, flight logs showed that in February 1999, Malova, then twenty-seven, flew on board Jeffrey Epstein's black Gulfstream "Lolita Express" with Ghislaine and Prince Andrew from Epstein's Little Saint James (a.k.a. "Pedophile Island") back to Florida.
Download


Copyright Disclaimer:
This site does not store any files on its server. We only index and link to content provided by other sites. Please contact the content providers to delete copyright contents if any and email us, we'll remove relevant links or contents immediately.