Submerged Prehistory by Benjamin Jonathan; & Clive Bonsall & Catriona Pickard & Anders Fischer
Author:Benjamin, Jonathan; & Clive Bonsall & Catriona Pickard & Anders Fischer , Date: May 26, 2021 ,Views: 982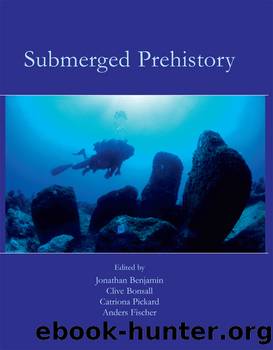 Author:Benjamin, Jonathan; & Clive Bonsall & Catriona Pickard & Anders Fischer
Language: eng
Format: epub
ISBN: 9781842175811
Publisher: Casemate Publishers & Book Distributors, LLC



14
A Late Neolithic Fishing Fence in Lake Arendsee, Sachsen-Anhalt, Germany
Rosemarie Leineweber, Harald Lübke, Monika Hellmund, Hans-Jürgen Döhle and Stefanie Klooß
* * *
In 2003 a Neolithic wooden fishing fence structure was discovered in the Arendsee, a lake in the north of Sachsen-Anhalt (Germany). Situated at the northern border of the lake, it was found in a horizontal position covered by marl sediments. So far the estimated length is more than 150 m. This discovery and the methods of diving in Lake Arendsee are described. Owing to natural land subsidence, triggered by subrosion, the fishing fence lies at a depth of 9–11 m, which is deeper than when it was in use. Radiocarbon analyses date the wooden artefacts to the 3rd millennium cal BC. Scientific research in 2004, 2005–6, and 2007 included excavations at several sites and the collection of sediments for pollen analysis. The results of the pollen analysis are supported by wood analyses of the Neolithic fence. The fence was made of thin wooden sticks of Corylus, bound with rope, one sample of which was identified as the phloem of Acer campestre. The pollen spectra of the 'on-site' sediments of the Neolithic fence can be dated to the Subboreal, i.e. the period after the Ulmus decline. Remains of four fish species, pike, bream, perch, and pikeperch, were identified in the surrounding sediments. In comparison to similar fishing fences from Northern Europe, the fishing fence of Lake Arendsee demonstrates a practice that was certainly often used, although the structure is of a type that is rarely documented for the Late Neolithic. The Arendsee fishing fence is the oldest such find from a lake in Germany, and the first evidence for the coppicing of hazel bushes in the Arendsee area during that period.
Download


Copyright Disclaimer:
This site does not store any files on its server. We only index and link to content provided by other sites. Please contact the content providers to delete copyright contents if any and email us, we'll remove relevant links or contents immediately.