Bravey by Alexi Pappas
Author:Alexi Pappas [Pappas, Alexi] , Date: February 2, 2021 ,Views: 205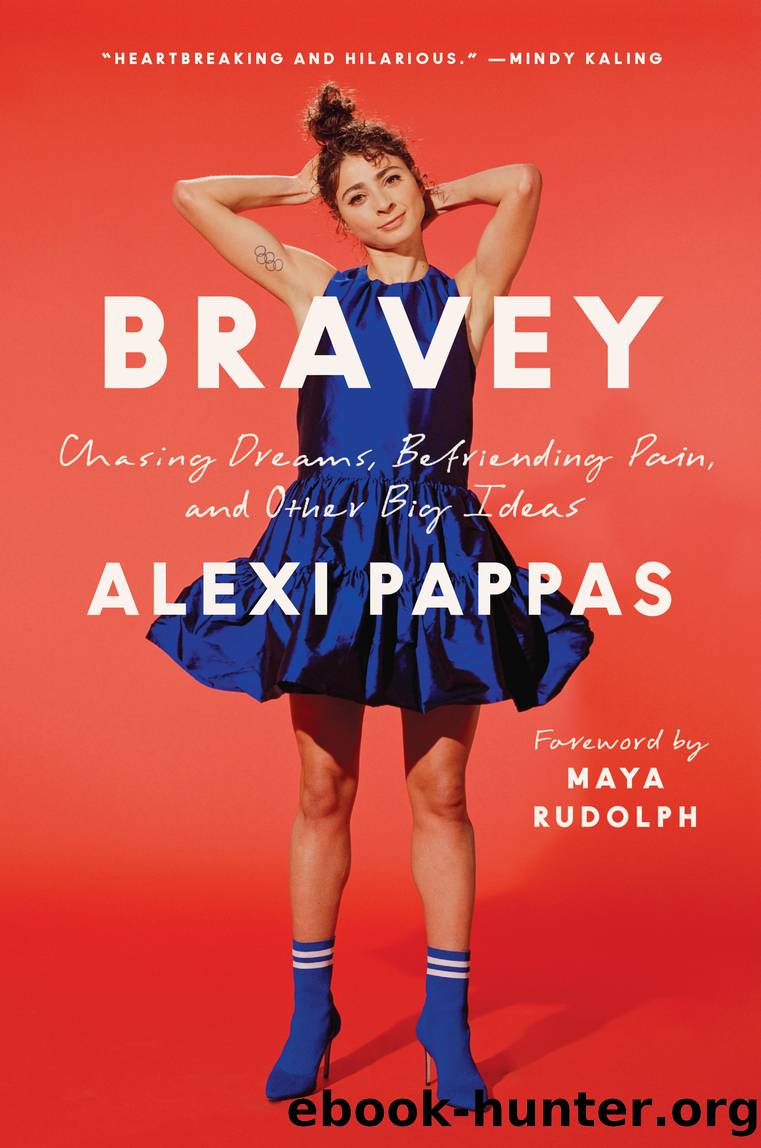 Author:Alexi Pappas [Pappas, Alexi]
Language: eng
Format: epub
Publisher: Random House Publishing Group
Published: 2021-01-12T00:00:00+00:00



* * *
Luckily, as far as the outside world was concerned, Jeremy and I managed to keep our careers afloat. Jeremy was doing a good job managing Tracktown's distribution and generally maintaining our professional relationships in the film world. And as I felt more stable and healthy internally, I was able to direct my gaze outward and begin piecing together how I'd move forward. This was a much healthier approach than what I had taken before, which was to attempt to solve my inner despair by desperately trying to control the outside world. I thought that external things, like shoe contracts and injuries, were what caused my depression and by fixing those I could fix myself. But what I learned was that it was important to solve my internal problems with internal solutions before I could reengage with the external world.
My first move was to see if I could undo the contract I signed with Nike in the darkest moment of my crisis. Dr. Arpaia helped me understand that I hadn't been thinking with rational perspective, and I knew now that a small Nike contract would not be in my best interest, especially since I really did want to move to Mammoth Lakes and train at altitude full-time. It would be better to be an unpaid free agent in Mammoth Lakes than an underpaid Nike athlete for the four-year duration of the contract I had signed. Dr. Arpaia encouraged me to be honest with Nike about what I had been going through when I signed the agreement.
Admitting to Nike that I had had a mental crisis was very hard for me. I was nervous about what they would say. I was afraid they would laugh at me, or not take me seriously, or think I was incompetent or even a bad person. When I finally had the courage to admit what was going on and ask that my contract be canceled, none of my fears came true. The team at Nike appreciated my honesty and they compassionately released me from the contract. Even though we were now officially without our main source of income, I felt light as Jeremy and I loaded up a U-Haul and drove back to Mammoth Lakes with all our belongings, ready to make our new start, for real this time.
I took some time without a contract so that I could regain my footing and figure out what was most important to me. I knew what I ideally wanted out of a partnership: a company that embraced me for exactly what I was, an athlete and an artist. I worked up the courage to reach out to Champion, a brand I'd long admired, and although they had never sponsored a professional runner before, we were such a good fit that they put together an apparel deal for me on an unprecedented basis. It was a dream come true that I never could have imagined during my depression. They valued my athletics, my film work, and my well-rounded persona.
Download


Copyright Disclaimer:
This site does not store any files on its server. We only index and link to content provided by other sites. Please contact the content providers to delete copyright contents if any and email us, we'll remove relevant links or contents immediately.