On Learning Golf by Percy Boomer
Author:Percy Boomer [Boomer, Percy] , Date: September 11, 2020 ,Views: 274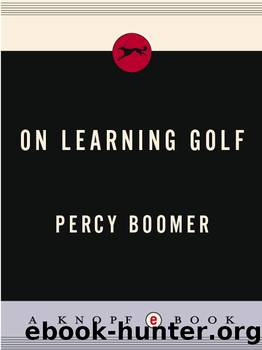 Author:Percy Boomer [Boomer, Percy]
Language: eng
Format: epub
ISBN: 978-0-307-80637-6
Publisher: Knopf Doubleday Publishing Group
Published: 2011-09-13T16:00:00+00:00



CHAPTER XIV
The Force-Center
I THINK that few experienced golfers will disagree with the dictum of that great teacher Ernest Jones that our strivings to attain a good swing will have been largely in vain unless at the end we have learned "to feel our club head."
Now this is a difficult thing to feel and an exceedingly difficult thing to teach a pupil to feel, though I have often succeeded in teaching it. The real difficulty is that you cannot teach it by teaching skill in the physical movements of the swing—yet this physical skill is a basic necessity before the feel can be induced. So we have to build up the good swing and then seek for "the feel of the club head" somewhere in its cycle.
We can pick this feel out most easily with the shorter clubs. Their heads are relatively heavy and the short shaft restricts the swing. It was with the No. 5 mashie that I personally first detected this feel. Incidentally, I should hate to tell you how long I had played golf before I did really feel that the club had a head to it! Very, very few of us feel the club head right from the time we walk up to address the ball until it fades away over our shoulder. In some great players this feel is so pronounced that you can actually see them seeking it and using it. Walter Hagen approaching and on a tea was a lovely example of this and so today is Henry Cotton—no other modern player gives so strong an impression of club head feel as does Cotton in his drive. For though the feel is most easily detected in ourselves with the shorter clubs, its presence in others is most easily recognized in the full swing of the drive.
Now after years of study of this matter of club head feel, I came to a very curious conclusion about it, and it was this conclusion which enabled me to be quite exceptionally successful in imparting club head feel to my pupils. Here it is: we do not feel our club head with our hands; we feel it with our bodies.
What I mean is that, though the hands, being the "railhead" of our feel, do of course play an important part, yet the feel does not stay in them—the hands (and arms of course, though less consciously) transmit this feel to the body to the central organization of our golf mechanism. And arising from this the most common mistake we make in trying to feel the club head is to look for the feeling of it in our hands instead of at the center.
This matter of feel at the center is so important that I have coined a name for its seat, for where it is felt. I call it the "force-center." I cannot give you an exact anatomical definition of where the force-center is, because its position varies with different shots. As the shot (and the swing) become longer, so the force-center rises; as they become shorter, the position of the force-center drops.
Download


Copyright Disclaimer:
This site does not store any files on its server. We only index and link to content provided by other sites. Please contact the content providers to delete copyright contents if any and email us, we'll remove relevant links or contents immediately.