The DOs by Norman Gevitz
Author:Norman Gevitz [Gevitz, Norman] , Date: July 14, 2020 ,Views: 261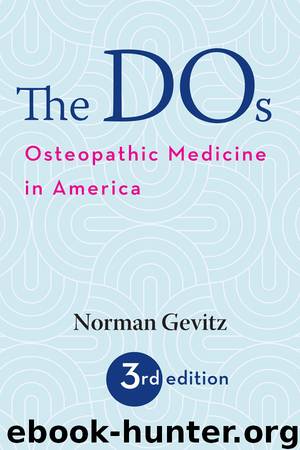 Author:Norman Gevitz [Gevitz, Norman]
Language: eng
Format: epub
ISBN: 9781421429601
Publisher: Johns Hopkins University Press
Published: 2019-04-02T00:00:00+00:00



The AMA Visitations
Under the terms of the agreement between the two national associations, each osteopathic school had the right to decide whether it would participate in the inspections. By late October five of the six colleges had given their approval, however, the Philadelphia school argued that the visitations still looked too much like an accreditation inspection and therefore declined. As the original AMA mandate called for a survey of all six schools, Cline's committee had to wait until the AMA board meeting in December to receive authorization to inspect only five.31
Prior to the visitations, which took place between January and March 1955, each participating school filled out a questionnaire patterned after that required by the AMA Council on Medical Education and Hospitals for colleges seeking accreditation. The visitation team requested information concerning the organization, authority, administration, finances, facilities, and operation of the colleges; the personnel, training, authority, and activities of the faculty; the curriculum content; the organization of departments, their objectives, methods of teaching, and equipment; the degree of interdepartmental coordination and cooperation; and the details of library facilities and contents.
At least two members of the AMA committee, which then consisted of Cline, James Appel, MD, Leonard Larson, MD, Thomas Murdock, MD, and Cleon Nafe, MD, visited each institution. These smaller teams included as educational advisors: L. R. Chandler, MD, recently retired dean of Stanford University School of Medicine, J. Murray Kinsman, MD, dean of the University of Louisville School of Medicine, and W. Clarke Wescoe, MD, dean of the University of Kansas School of Medicine. Floyd Peckham represented the AOA and accompanied each team.
By agreement, the visitation committee would have access to all the information they believed essential to their efforts and that the observations would be of such breadth, depth, and duration, as they deemed necessary. At the end of each on-site visit, the team's educational advisor prepared a report, one copy transmitted to the college, while the other sent to the AMA Conference Committee as a confidential document. Following completion of all visitations, the AMA Conference Committee drafted a final document containing the answers to the AMA Board of Trustees' four questions. First, is modern osteopathic education the teaching of "cultist" medicine within the definition of the principles of medical ethics? Second, if the first question is at all true, to what degree? Third, if to some degree, does this element interfere with sound medical education? Fourth, what is the quality of medical education?
In its findings, presented to the AMA House of Delegates in June 1955, the Conference Committee noted that all of the osteopathic schools visited were attempting to give their students a rounded general practitioner–type of training, expecting that the majority of their graduates would become primary care physicians with a high percentage of them locating in traditionally underserved communities. Examining student records, the committee observed that all osteopathic students had completed the educational requirements for admission to an AMA-accredited college and that a considerable number of them could have obtained admission to a medical school.
Download


Copyright Disclaimer:
This site does not store any files on its server. We only index and link to content provided by other sites. Please contact the content providers to delete copyright contents if any and email us, we'll remove relevant links or contents immediately.