The Battle of Marathon by 50Minutes.com
Author:50Minutes.com , Date: July 21, 2020 ,Views: 163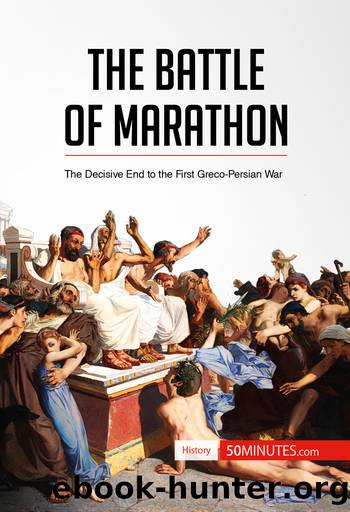 Author:50Minutes.com
Language: eng
Format: epub
Publisher: 50Minutes.com
Published: 2016-03-15T00:00:00+00:00



The Persian army
It is also difficult to estimate the exact number of men who participated in the Battle of Marathon on the Persian side. Several authors reporting after the events mention a force of about 100 000-600 000 men. Added to this number are the triremes (warships), estimated at approximately 600 by Herodotus. These figures should be analyzed carefully and one should consider that they have been exaggerated for various reasons. Contemporary historians meanwhile argue the figure to be closer to 25 000 men and 1 000 horsemen. One should remember that the Persian army landed only a part of its troops in Marathon, leaving the others to head towards the port of Phalerum. However, it is still reasonable to assume that the forces of Datis and Artaphernes were double in size to the Greek army.
The army being composed of men from all corners of the empire, the soldiers did not all speak the same language and yet had to fight together. This multilingualism could have disadvantaged the Persian army during their maneuvers, even if it was organized according to the origins of the combatants. From Herodotus, we know that the Persians and the Saces (Scythian people) fought at the center of the military structure.
Download


Copyright Disclaimer:
This site does not store any files on its server. We only index and link to content provided by other sites. Please contact the content providers to delete copyright contents if any and email us, we'll remove relevant links or contents immediately.