Tarzan the Final Chapters by Edgar Rice Burroughs
Author:Edgar Rice Burroughs [Burroughs, Edgar Rice] , Date: February 21, 2023 ,Views: 60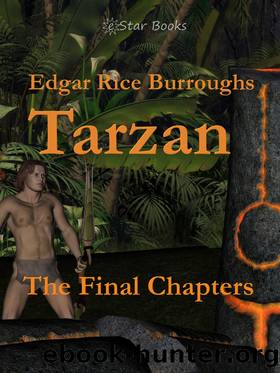 Author:Edgar Rice Burroughs [Burroughs, Edgar Rice]
Language: eng
Format: epub
Publisher: eStar Books
Published: 2013-07-04T07:00:00+00:00



Chapter 13
Slapped around, prodded in the backsides with bayonets, spit on, Rosetti and Bubonovitch were two rage filled and unhappy men long before they reached the native village. Here they were taken into a native house, trussed up, and thrown to the floor in a corner of the room. There they were left to their own devices, which consisted almost wholly of profanity. After describing the progenitors of all Japs from Horohito down, and especially those of Lt. Kumajiro Tada, in the picturesque and unprintable patois of Cicero, Brooklyn, and the Army, they worked back up to Hirohito again.
"What's the use?" demanded Bubonovitch. "We're just working up blood pressure."
"I'm workin' up my hate," said Rosetti. "I know just how dat Corrie dame feels, now. I sure love to hate 'em."
"Make the most of it while you can," advised Bubonovitch. "That ocher looie's going to lop your hater off in the morning."
"Geeze," said Rosetti. "I don't wanna die, Bum."
"Neither do I, Shrimp."
"Geeze! I'm scairt."
"So am I."
"Let's pray, Bum."
"Okay. The last time you prayed to Her, She sent Tarzan."
"I'm just leavin' it to Her. I don't care how She works it."
There was not much sleep for them that night. Their bonds cut into wrists and ankles. Their throats were dry and parched. They were given neither food nor water. The night was an eternity. But at last it ended.
"Geeze! I wisht they'd come an' get it over wit. Thinkin' about it is the worst part."
"Thinking about my wife and baby is the hardest part for me. My wife and I had such great plans. She'll never know what happened to me, and I'm glad for that. All she'll ever know is that my plane took off from somewhere for somewhere and never came back. Did you pray a lot, Shrimp?"
"Most all night."
"So did I."
"Who did you pray to, Bum?"
"To God."
"One of 'em must have heard us."
The sound of scuffing feet ascending the ladder to the house reached their ears.
"I guess this is it," said Bubonovitch. "Can you take it, Shrimp?"
"Sure."
"Well, so long, fellow."
"So long, Bum."
A couple of soldiers entered the room. They cut away the bonds, and dragged the two men to their feet. But they couldn't stand. Both of them staggered and fell to the floor. The soldiers kicked them in head and stomach, laughing and jabbering. Finally they dragged them to the doorway and slid them down the ladder one by one, letting them fall most of the way to the ground.
Tada came over and examined them. "Are you ready to answer my questions?" he demanded.
"No," said Bubonovitch.
"Get up!" snapped the Jap.
Circulation was returning to their numbed feet. They tried to rise, and finally succeeded. But they staggered like drunken men when they walked. They were taken to the center of the village. The soldiers and the natives formed a circle around them. Tada stood beside them with drawn sword. He made them kneel and bend their heads forward. Bubonovitch was to be first.
"I guess They didn't hear us, Shrimp," he said.
Download


Copyright Disclaimer:
This site does not store any files on its server. We only index and link to content provided by other sites. Please contact the content providers to delete copyright contents if any and email us, we'll remove relevant links or contents immediately.