African Voices of the Global Past: 1500 to the Present by R. Getz Trevor
Author:R. Getz, Trevor , Date: March 4, 2020 ,Views: 142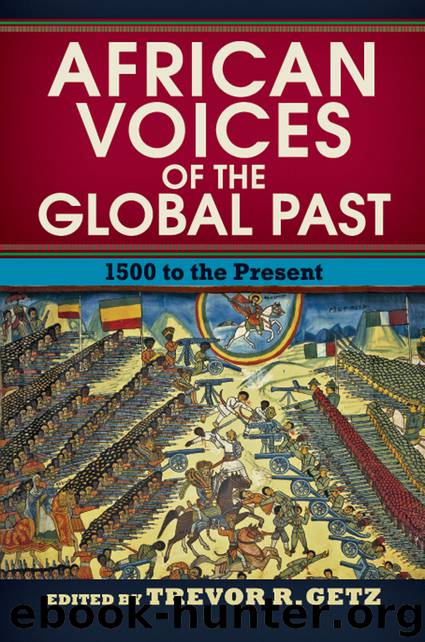 Author:R. Getz, Trevor
Language: eng
Format: epub
Publisher: Taylor and Francis
Published: 2018-04-16T16:00:00+00:00



AFRICAN EXPERIENCES
In this section we will examine African experiences during the two world wars, focusing on Nigerians enlisted in the colonial army, Nigerian nationalists, and market women. This will allow us to better comprehend the impact of the wars on both soldiers and nonsoldiers and the contributions of the war generations to nationalism, decolonization, and gendered politics. All Africans—regardless of class, region, ethnicity, and race—were involved to one degree or another in the win-the-war efforts of the belligerents. Their experiences of the wars were shaped predominantly by the politics of individual colonial powers and the extent of their involvement in the wars.
This section is divided into three parts. In the first, we examine how Nigerians viewed and responded to recruitment into the colonial army. The next section explores how the wars transformed Nigerian nationalism, and the position of leading nationalists on these major events in world history. In the third section, we consider the impact of the wars on African market women, who protested wartime policies that affected their livelihood and social status. Although we will focus mainly on the experiences of Africans from the British colony of Nigeria, the issues discussed here are applicable to the entire continent. It is useful to note that Nigeria was not only the most populous country in Africa but also Britain's most prosperous colony, second only to India.
Download


Copyright Disclaimer:
This site does not store any files on its server. We only index and link to content provided by other sites. Please contact the content providers to delete copyright contents if any and email us, we'll remove relevant links or contents immediately.