A Club In Monmartre by Mike Resnick
Author:Mike Resnick , Date: February 16, 2023 ,Views: 38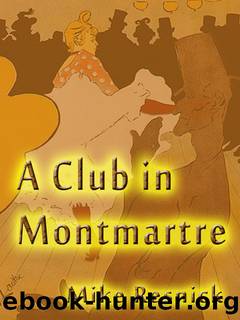 Author:Mike Resnick
Language: eng
Format: epub
Publisher: ePublishing Works!
Published: 2011-04-11T00:00:00+00:00



Chapter 8: A Drawing in Montmartre
Dany awoke to the small of coffee. She sat up, rubbed her eyes, then climbed out of bed and walked into the studio.
"You are awake," she said.
"Of course I'm awake," answered Henri.
"I thought you would sleep all the way through until nightfall."
"Now, why would you think that?"
"You were so drunk last night, you couldn't even remember your name."
"Really?" he asked curiously. "It must have been very good cognac."
"You will kill yourself."
"We must all die," answered Henri. "Very few of us are privileged to determine the method by which it will happen."
"You make a joke of it," she said severely, "but there is nothing funny about what you are doing to your body."
"I cannot believe I am being lectured to by a child," he said in some amusement. Suddenly the half-smile left his face. "What I am doing to my body is nothing compared to what God has already done to it."
"But you are a great artist, and it would be wrong to rob the world of your talent."
"Now, that is perhaps the one argument I cannot refute," said Henri. "You are going to be quite a woman when you grow up, young Dany."
"I would rather grow up in a world that included you than one that didn't," she said sincerely.
"Maybe you will take my place when you are grown up," he suggested. Then he smiled. "Or are you intent upon taking La Goulue's?"
"You are teasing me again."
"Yes," he admitted. "Yes, I was. I do it so naturally I don't even notice it. I think for putting up with my teasing, you deserve a lesson from a master."
"You mean we're going to work on the painting?"
"In an hour," he said. "But for now, I am going to teach you the rudiments of drawing. We might as well find out if you will become the Toulouse-Lautrec of the new century."
He sat her down next to him, gave her a sketch pad and a piece of charcoal, and offered her some rudimentary instructions for the next 45 minutes as she tried her best to follow his suggestions.
"They don't look like people," she said unhappily, fixing a critical eye on the figures she'd drawn.
"They're a very good beginning," replied Henri. "No one learns everything in a day, or a week, or a month. But you have made a nice start. Just remember that to be true to your art, you must paint your subjects not as a camera might see them, but as you see them. Sometimes the two are very similar, but more often they are not."
"I will remember, Henri," she promised.
"Good," he replied. "Now let us get to work before you must leave for the club."
"Where is your paint?" she asked.
"I won't be painting for a few days yet," he answered. "But even when I do, this is not a work that is to be framed and displayed. It is just a guideline for me when I create the poster." He turned to her. "Did you learn the dance steps as I requested?"
"Yes," she said.
Download


Copyright Disclaimer:
This site does not store any files on its server. We only index and link to content provided by other sites. Please contact the content providers to delete copyright contents if any and email us, we'll remove relevant links or contents immediately.