Radical Focus: Achieving Your Most Important Goals With Objectives and Key Results by Christina R. Wodtke
Author:Christina R. Wodtke , Date: July 17, 2020 ,Views: 174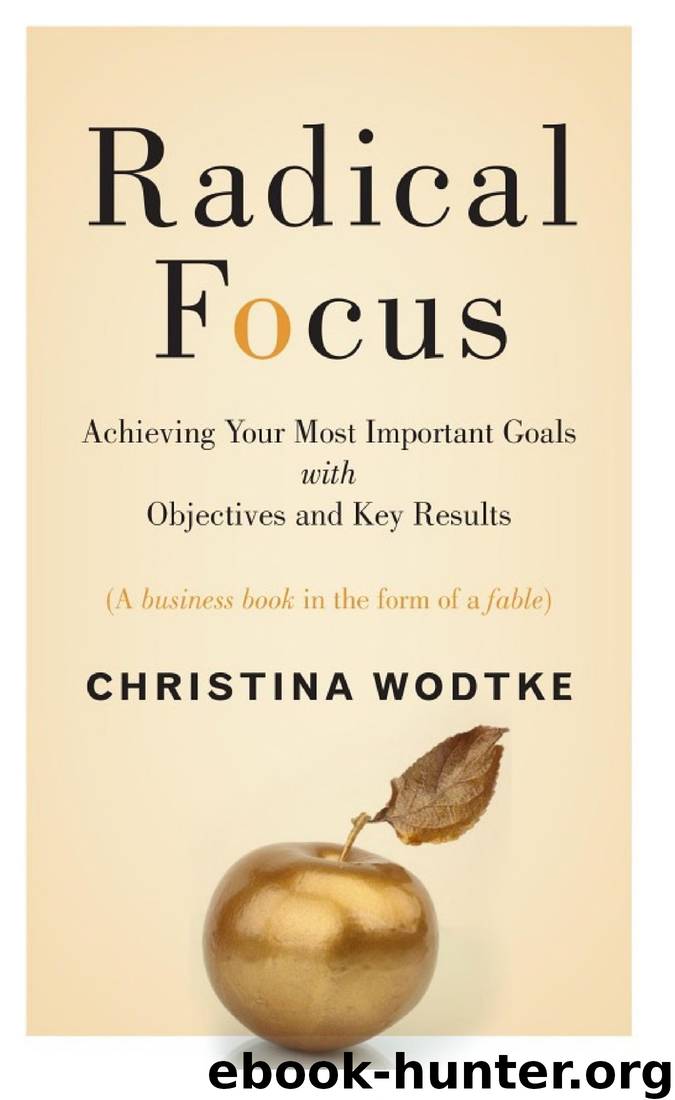 Author:Christina R. Wodtke
Language: eng
Format: epub
Tags: Business & Economics, Production & Operations Management, Sales & Selling, General
Publisher: Boxes and Arrows
Published: 2017-04-12T05:11:00+00:00



...
His first Monday, Raphael came in at eight. Hanna sat typing away at her desk. She gestured vaguely at him and went back to typing. Soon she smelled coffee, and she smiled. He'd found the stash Cameron kept in the freezer.
At ten, with the office full, Erik strode in. Hanna stopped typing. Showtime, she thought. She nodded to Raph, who was camped next to her on an empty desk. They got up and walked Raphael over to the engineering pod to introduce him to his new team.
"Is that coffee I smell?" Erik asked, accusingly.
"Not everyone can start their day with tea." Raph smiled.
"Don't I know it!" replied Cameron.
Erik frowned, his first insult having missed its mark. "Look, I get you've built some big name games. But I gotta warn you, tea might look simple, but it's not. We've rolled our own system for order management here. It's hard to handle the rapidly fluctuating supply, but I've got an algo that predicts it."
"Good to hear," Raph replied.
"You are familiar with algorithm design?"
"I'm ok. I worked on search at my last two companies."
Hanna interrupted the interrogation, "Erik, can I talk to you about an issue in the conference room? Before we start the meeting?" she asked.
"Um, I just want to do a few more things."
"Now," Hanna insisted.
He shrugged and reached for his laptop.
She placed her hand lightly on the docked machine. "We don't need that."
Erik rolled his eyes with a "whatever" expression and followed her into the conference room.
Hanna sat, gesturing for Erik to do the same. Erik stayed standing.
"Erik, we know what you've been doing with the code. That's not acceptable here."
Erik jammed his hands in his jeans pockets. Hanna waited. She struggled not to say anything into the silence. She counted the seconds, keeping silent. He opened his mouth, but it seemed an eternity before he said anything. As if he was fitting words on his tongue until he found the ones that felt right.
"What you are doing with the company is not acceptable!" Erik spat out. "This is not the company I joined!"
Hanna began to prepare her next words. Before she could say anything, though, Erik started back in.
"Fucking gamer guy? What is that? Prepping for an IPO? You bring him just so you can raise another round? Do you care about the farmers? Do you care about people?"
Hanna was aghast. What could he be talking about? They were years from any kind of decent exit, much less an IPO.
"Erik, look. We've been pretty clear we've been looking for a CTO for a while…"
"What is this place becoming? Unless we go back to dealing with restaurants, I quit."
He stood there stock still, daring her to argue. Demanding she beg him to stay.
She looked back at him, appraising all six-foot-five inches of tobacco-stinking, code-muddling, snake-in-the grass anarchist. And when his shoulders drooped just a little bit, she replied.
"I think you misunderstand my point, Erik. You're fired."
Download


Copyright Disclaimer:
This site does not store any files on its server. We only index and link to content provided by other sites. Please contact the content providers to delete copyright contents if any and email us, we'll remove relevant links or contents immediately.