Project Management for Non-Project Managers by Jack Ferraro
Author:Jack Ferraro , Date: April 14, 2020 ,Views: 310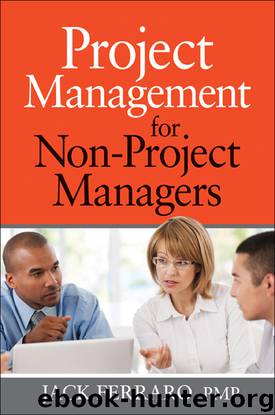 Author:Jack Ferraro
Language: eng
Format: epub
Publisher: AMACOM
Published: 2012-04-14T16:00:00+00:00



Project Management
Many newcomers to project management have varying definitions and impressions of the field. Some immediately think "bureaucracy," or maybe "herding cats." Others think of technical jargon such as "critical path," "milestones," or my favorite, "earned value." Some immediately ask for new software to be installed on their computer, so they have yet another application to play with.
Naturally, project management has an official definition by the Project Management Institute: the application of knowledge, skills, tools and techniques to project activities to meet the project requirements.2 To clarify the work, however, I like to define project management with these three components:3
1. Managing the competing demands of scope, time, budget, quality, and risk.
2. Managing differing and competing stakeholder expectations.
3. Meeting both defined customer requirements (needs) and undefined customer requirements (expectations).
The first statement might be familiar to you; it is rooted in the triple constraint (cost, schedule, and scope/quality), which has been officially transformed to include "manage." A project manager must manage quality, risk, and human resources in the face of organizational influences and both external and environmental factors. Usually, one or two constraints are firm. For example, the project may have to be completed by a certain date, while flexibility remains in time frame and scope.
The second statement is a hard dose of reality. Stakeholders will have differing and competing interests and expectations that must be managed. If project managers are viewed as mere coordinators with limited authority or credibility, much of this stakeholder management will rest on your shoulders as the functional manager.
The last statement in the project management definition is my favorite. Project management requires you to meet the customer's documented requirements as well as their undocumented requirements. But the expectations for projects can grow like a wildfire burning out of control. Customers and users rarely understand the written requirements, or even read them. Their expectations have developed over time about how they want things to be in their perfect world. Signing off on requirements may move the project along, but until customer expectations are aligned with scope documents, progress shown on Gantt charts is a false reality. Progress will begin to slow, if not come to an abrupt halt, when the customer's lofty expectations encounter the hard facts of real, tangible, inspectable project deliverables. Furthermore, stakeholder expectations can vary wildly within a project organization. You must uncover them and rein them in or suffer the consequences of dissatisfied customers, one of whom might be you!
Download


Copyright Disclaimer:
This site does not store any files on its server. We only index and link to content provided by other sites. Please contact the content providers to delete copyright contents if any and email us, we'll remove relevant links or contents immediately.