Philosophy Smackdown by Douglas Edwards
Author:Douglas Edwards [Edwards, Douglas] , Date: February 24, 2021 ,Views: 19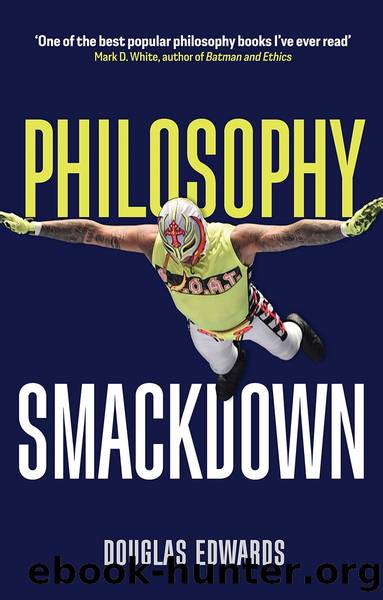 Author:Douglas Edwards [Edwards, Douglas]
Language: eng
Format: epub
ISBN: 9781509537679
Publisher: Wiley
Published: 2020-06-29T00:00:00+00:00



3. Turns
Some of the more dramatic moments in wrestling are points where characters tease turning from babyface to heel, or vice versa. For example, the narrative structure of Bret Hart and Roddy Piper's Intercontinental Championship match at WWF WrestleMania VIII was built around the recently redeemed Piper's temptations to go to the dark side and use a weapon against a fallen Hart. Piper's hesitation as he held the ring bell in his hand, and the crowd's desperate pleading with him not to use it, was the most dramatic moment of the match, and Piper's subsequent refusal to use the ring bell was presented as a large part of his loss in the match, and the loss of his title.
Moments where characters do change from babyface to heel, or vice versa, are amongst the most memorable in the history of the genre. Hulk Hogan's heel turn at WCW Bash at the Beach '96, for example, is often discussed as the most significant and shocking moment in contemporary American pro wrestling. Other shock turns include The Rock's heel turn at WWF Survivor Series '98, and Stone Cold Steve Austin's heel turn at WrestleMania 17. When done well, these are very interesting moments from a character point of view, as they show a character at breaking point; at a point where what has previously worked for them no longer does, and they are forced into a change, for better or for worse.
Hogan's turn was probably the most shocking, both from a kayfabe, storyline perspective, and from a real-life business perspective. Hogan, of course, had been the number one babyface in pro wrestling for around 10 years, in both the WWF and WCW. The success of the WWF in the late 1980s/early 1990s had been built around Hogan, including the concept of the biggest wrestling event every year, WrestleMania. Hogan was easily the most recognizable face in wrestling, and had a good degree of mainstream recognition. His appeal to kids was legendary, as was his ability to sell red-and-yellow merchandise spreading Hulkamania worldwide to all the little Hulkamaniacs. In 1994, after spending some time away from wrestling filming movies and TV shows, Hogan signed a massive deal with WCW to return to wrestling. He immediately unseated the WCW champion, Ric Flair, and went on to more-or-less continue the same character work and storylines that had brought him success in the late 1980s.
In 1996, though, this was getting a little stale, and fans were starting to tire of the classic Hogan act. Eric Bischoff noticed this, and pitched Hogan the idea of joining the invading Scott Hall and Kevin Nash, and becoming the mysterious "third man" in the New World Order (nWo) storyline. Hogan was unsure, as this was a big risk for his character. Not only would it overturn the classic good guy he had been for so long, but it could have major financial implications: he would be giving up all the money from the merchandise so eagerly snapped up by the little Hulkamaniacs.
Download


Copyright Disclaimer:
This site does not store any files on its server. We only index and link to content provided by other sites. Please contact the content providers to delete copyright contents if any and email us, we'll remove relevant links or contents immediately.