Perfect Porridge Recipes: Your GO-TO Cookbook of Comfort Food Dish Ideas! by Alice Waterson
Author:Alice Waterson [Waterson, Alice] , Date: March 28, 2020 ,Views: 102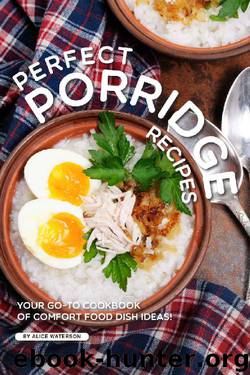 Author:Alice Waterson [Waterson, Alice]
Language: eng
Format: epub
Publisher: UNKNOWN
Published: 2018-12-18T08:00:00+00:00



15 – Garlic-Chicken Porridge
There are few types of sweet and savory porridge more delicious or popular than this recipe. The idea comes from Chinese congee, and the rice and flavorful stock go together well.
Makes 6-8 Servings
Cooking + Prep Time: 2 hours & 10 minutes
Ingredients: • 2 tbsp. of oil, vegetable
• 5 minced cloves of garlic
• 1 thinly sliced bunch of green onions
• 1 tbsp. of salt, kosher
• 1 chicken, 3 to 4 pounds
• 3 oz. of peeled, sliced ginger
• 1 & 1/2 cups of rice, white
• 3 tbsp. of sauce, fish
• To garnish: chili oil, bottled
Instructions:
1. Heat the oil in large sized sauce pan on med-high heat.
2. Add green onion's white parts first. Cook till they become fragrant. This usually takes just a couple minutes. 3. Add 10 cups of water, ginger, chicken and salt. Bring to boil. Reduce the heat. Simmer chicken till tender enough to fall off bone. This generally takes an hour or so.
4. Remove chicken from stock and allow to slightly cool. Pull meat from bones and discard bones and skin. 5. Strain stock and discard solids. There should be nine cups of stock remaining. Place with rice in large sized sauce pan on high heat. Then bring to boil.
6. Reduce to simmer. Cook till rice becomes overcooked and creamy. Add fish sauce and reserved meat. Combine by stirring. Garnish with chili oil and green parts of green onions. Serve.
Download


Copyright Disclaimer:
This site does not store any files on its server. We only index and link to content provided by other sites. Please contact the content providers to delete copyright contents if any and email us, we'll remove relevant links or contents immediately.