The Bone Broth Miracle: How an Ancient Remedy Can Improve Health, Fight Aging, and Boost Beauty by Ariane Resnick
Author:Ariane Resnick , Date: December 11, 2017 ,Views: 15941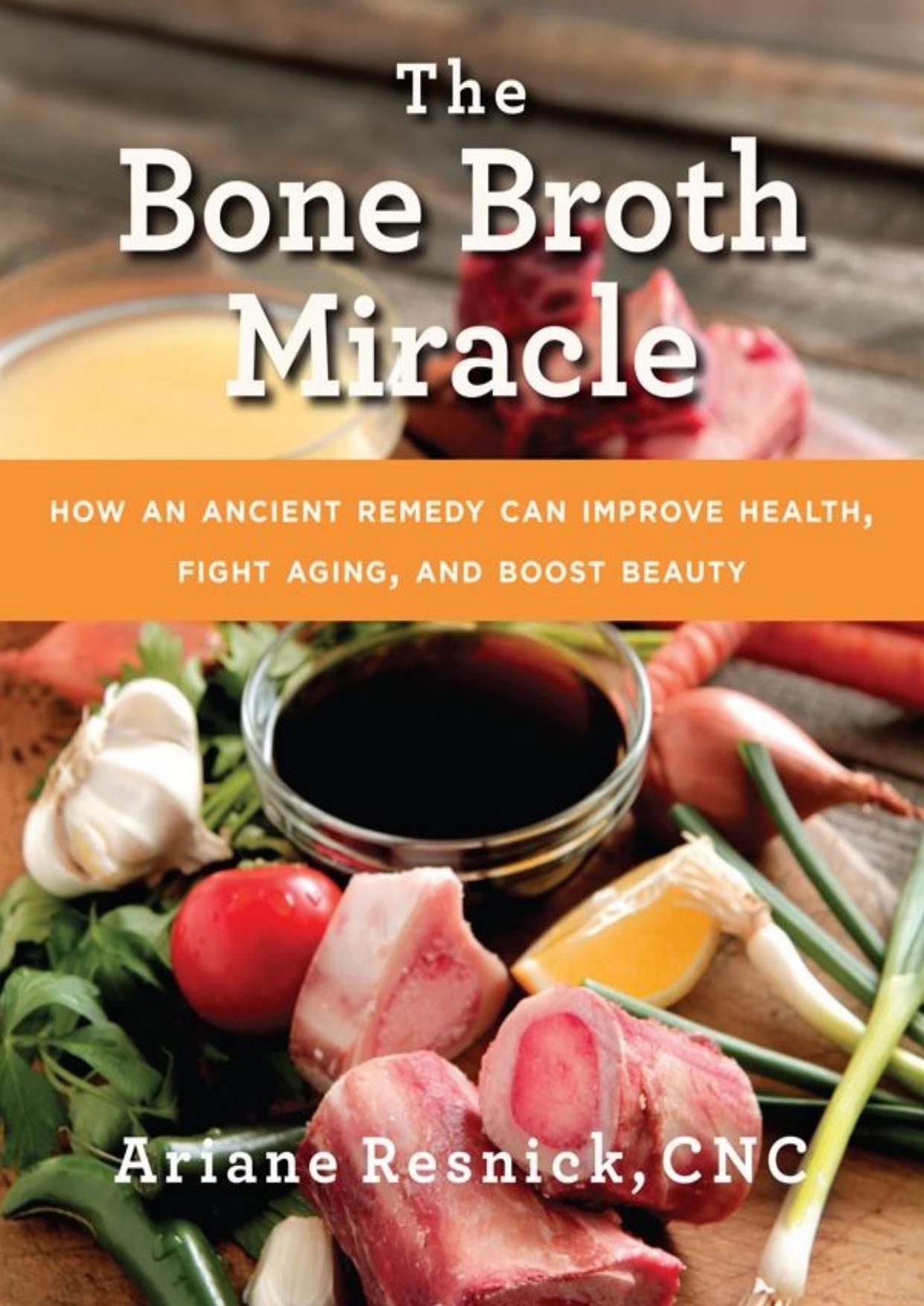 Author:Ariane Resnick
Format: epub, azw3
Publisher: Perseus Books, LLC
Published: 2015-01-01T05:00:00+00:00



Adding Bone Broth to Your Daily Routine
At first glance, cooking bone broth can seem intimidating. The process of making bone broth is actually very straightforward and does not have to take whole days or even many hours. The first thing is to remember that brewing broth is as old a culinary practice as cooking hot meals is, so whether you are well versed in the kitchen or just learning, making homemade broth is nothing if not human nature. The difference today is that we have numerous options for cooking, many of which cut out the need to monitor the stove for hours on end. Particularly with a pressure cooker, bones will break down as if they have been cooking for days without the hassle. Once you have mastered the few easy steps of cooking bone broth regularly, there are many different ways to incorporate it into your diet.
Drink a Cup for Breakfast
Nourishing bone broth is packed with protein and energy boosters. Whether you are someone who needs a big, well-rounded breakfast to start your day or someone who subsists strictly on coffee until lunchtime, adding bone broth to your breakfast regimen will be a seamless transition. Heat up a cup of bone broth and sip it while you get ready for your day, while you read or watch the news, or take it to go in a coffee thermos on your way out the door. For many people who drink coffee or tea with sugar in the morning, the initial rush is inevitably followed by a crash, which sets off jitters, derails your energy levels, and inhibits your ability to focus. Warming broths like the Energy Tonic in this book will be a comforting wake-up boost each day, and the protein in the broth will help you feel full and satisfied until your next meal.
Replacing a Snack or Afternoon Coffee
Do a snack swap. Instead of reaching for granola bars to fend off hunger or grabbing an extra cup of coffee to wake you up during the 2 p.m. lull, heat up some revitalizing bone broth. Bring containers of the broth to work or have it in the refrigerator at home for when hunger pangs between meals set in. The protein will give you a burst of energy that snack foods will not, and it is a low-calorie, nourishing alternative to some of the empty calories that can offset a person's generally healthy diet.
Rotate Your Broth Recipes
Chicken broth, beef broth, fish broth, or mixed broths—there seem like so few options. In reality, rotating the kinds of broth you drink or use in recipes can make all of the difference. The savory tastes of each kind have something special to offer, and adding different herbs and spices to cooked broth can change the flavor dynamic enough so that drinking broth never gets old. Whether you add ginger to chicken broth or turmeric to beef, these subtle hints of flavor create the kind of flavor depth that makes each cup unique and satisfying.
Soothing
Download


Copyright Disclaimer:
This site does not store any files on its server. We only index and link to content provided by other sites. Please contact the content providers to delete copyright contents if any and email us, we'll remove relevant links or contents immediately.