Paul Brand: Helping Hands by Janet Benge & Geoff Benge
Author:Janet Benge & Geoff Benge [Benge, Janet & Benge, Geoff] , Date: June 3, 2020 ,Views: 46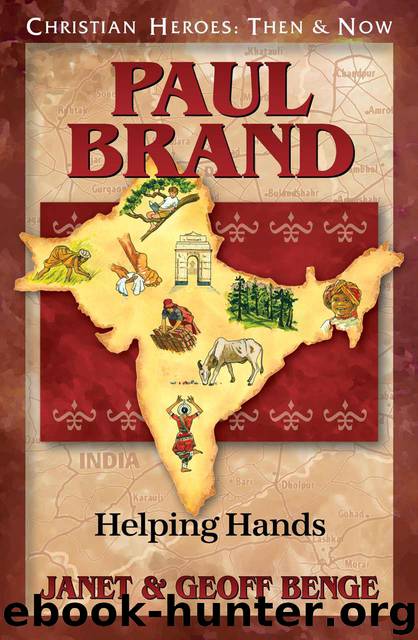 Author:Janet Benge & Geoff Benge [Benge, Janet & Benge, Geoff]
Language: eng
Format: epub
Tags: Juvenile Nonfiction, Biography & Autobiography, Religious, Christian
ISBN: 9781576585368
Google: fwocKQEACAAJ
Amazon: 1576585360
Barnesnoble: 1576585360
Publisher: YWAM Pub.
Published: 2011-03-20T00:00:00+00:00



Chapter 10
New Hope
Paul worked ten hours a day operating on patients and teaching medical students, and he was on call every third night, but now he had another mission. He spent every spare moment in the hospital library running down all the leads he could find on leprosy. His drive to know more was infectious. Soon other doctors at the hospital were giving up their own off-hours to cover for Paul so that he could continue his research in the library.
After three months Paul had to conclude that Dr. Cochrane had been right: no one had studied the deterioration of the hands or feet of leprosy patients. The only references Paul could find in all of the medical journals were related to how to amputate the arms and legs of a leprosy sufferer once the limbs had become too infected and ulcerated. Thousands of orthopedic surgeons around the world operated regularly on patients with hand problems caused by polio, birth defects, and accidents, but not one of them had ever operated on the hands of a leprosy patient. Paul found this hard to comprehend, since there were more leprosy patients with hand problems than all of the other patients with hand problems combined.
Like an annoying stone in his shoe, Paul could not ignore the mystery of leprosy. Somebody had to solve the riddle of what was happening to the hands of leprosy sufferers and why. Eventually Paul came to the conclusion that this was the reason God had put him at Vellore—to be the person who took on the task of helping leprosy patients keep or regain the use of their hands.
By now it was October, the end of the hot season on the plains, and time for Margaret to move down to Vellore. It was a wonderful day for Paul when he was able to escort his wife and children down from the mountains and back to Vellore. The family would continue staying with the Carmans while Margaret adjusted to living in Vellore and managing a household in India, and then they would move into a place of their own.
Paul could not have been happier. For the first time the Brand family was living in one place. It made coming home from work after a long day a joy. In the evenings he could relax and sit and talk with Margaret. One of the things he talked with her about was his determination to find out more about the way leprosy affected people's hands. Margaret was very supportive of his efforts, and Paul was glad he had married a fellow doctor who could understand his passion for this medical mystery.
It was good that Margaret supported him in his quest, because Paul spent many of his off-hours studying the problem. He decided that the best way to proceed would be to study a small group of leprosy patients and possibly operate on their hands. Vellore seemed the perfect spot to do this, since it was right in the middle of the highest density of leprosy in the world.
Download


Copyright Disclaimer:
This site does not store any files on its server. We only index and link to content provided by other sites. Please contact the content providers to delete copyright contents if any and email us, we'll remove relevant links or contents immediately.