Native American in the Land of the Shogun: Ranald MacDonald and the Opening of Japan by Frederik L. Schodt
Author:Frederik L. Schodt [Schodt, Frederik L.] , Date: August 6, 2020 ,Views: 288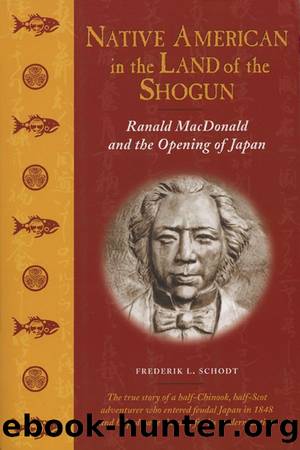 Author:Frederik L. Schodt [Schodt, Frederik L.]
Language: eng
Format: epub
Tags: Adventurers & Explorers, Asia, Autobiography, Biography, Ethnic Studies, History, Native American Studies, Non-Fiction, Social Science
ISBN: 9781880656785
Google: qG6DAgAAQBAJ
Amazon: 1880656787
Publisher: Stone Bridge Press
Published: 2003-07-01T23:00:00+00:00



Nicholai Petrovich Rezanov visits Nagasaki, October 1804. Uncredited and undated woodblock print.
Japan's particularly complicated system of government made matters worse. A Shogun, or hereditary military commander, resided in Edo and wielded absolute power, ruling in the name of the emperor, who had been reduced to a figurehead. Local power rested in warlords who controlled large domains throughout Japan, but the Shogunate held them in check by heavy taxes and requirements that they spend vast sums of money and time traveling with retainers to the capital every other year, where they spent months as hostage-guests. Throughout Japan, control was further enforced by an elaborate, institutionalized system of informants and spying. As Langsdorff noted, during visits by the Japanese there were always one or more new people involved, acting as checks on the interpreters and others to make sure no secret business agreements were taking place, "the government's mistrust . . . mainly at fault."13
During the nearly six months that the Russian mission remained in Nagasaki Harbor waiting for an official answer, Rezanov's frustration steadily grew. In the end, the Japanese officials finally gave him his reply. Contact was only allowed with the Dutch, Chinese, Ryūkyūans, and the Koreans; contact with other nations was impossible because it would entail an unequal, and dangerous, relationship. Rezanov's presents could not be accepted because that would entail reciprocating with items of equal value and sending an ambassador to Russia, which Japanese laws prohibited. Finally, the officials told the Russians, Japan had no great wants or needs and therefore did not desire trade, especially when it would "occasion frequent intercourse between the common people and the foreign sailors; and this is a thing strictly prohibited."14 The castaways, however, were accepted, and after long interrogations and imprisonment eventually allowed to return home.
Enraged by what he perceived as humiliations, Rezanov left Nagasaki on April 18, 1805, and sailed north through the Japan Sea, heading for Petropavlovsk, on the Kamchatka Peninsula. Despite having been strictly warned to avoid Japan's coasts and not to land, his ship did quite a bit of exploring on the way. In books later published, both Langsdorff and the ship's captain, Ivan Fedorovich Kruzenshtern, give coordinates for and correctly name Teuri and Yagishiri islands. Langsdorff mentions, on the morning of May 10, Rishiri, "a conical snow-clad mountain visible from a great distance," but he calls it "Mount de Langle," after the name given to it by La Perouse in 1787. He notes that it is an island separate from Hokkaidō, and in footnotes gives the correct Japanese name, "Rii-siire."15
On May 11, the Nadezdha landed at Cape Sōya, which Kruzenshtern named Cape Romanzoff. Again, both his book and Langsdorff's provide the correct Japanese name and coordinates, and describe being met first by a group of Ainu, who came on board and invited the Russians to visit their homes on shore. The Russians noted the Ainu's appearance, dwellings, the use of poison arrows for hunting, the practice of keeping young bears in their huts, and their general subjugation by the Japanese.
Download


Copyright Disclaimer:
This site does not store any files on its server. We only index and link to content provided by other sites. Please contact the content providers to delete copyright contents if any and email us, we'll remove relevant links or contents immediately.