Miami by Joan Didion
Author:Joan Didion , Date: December 9, 2017 ,Views: 1721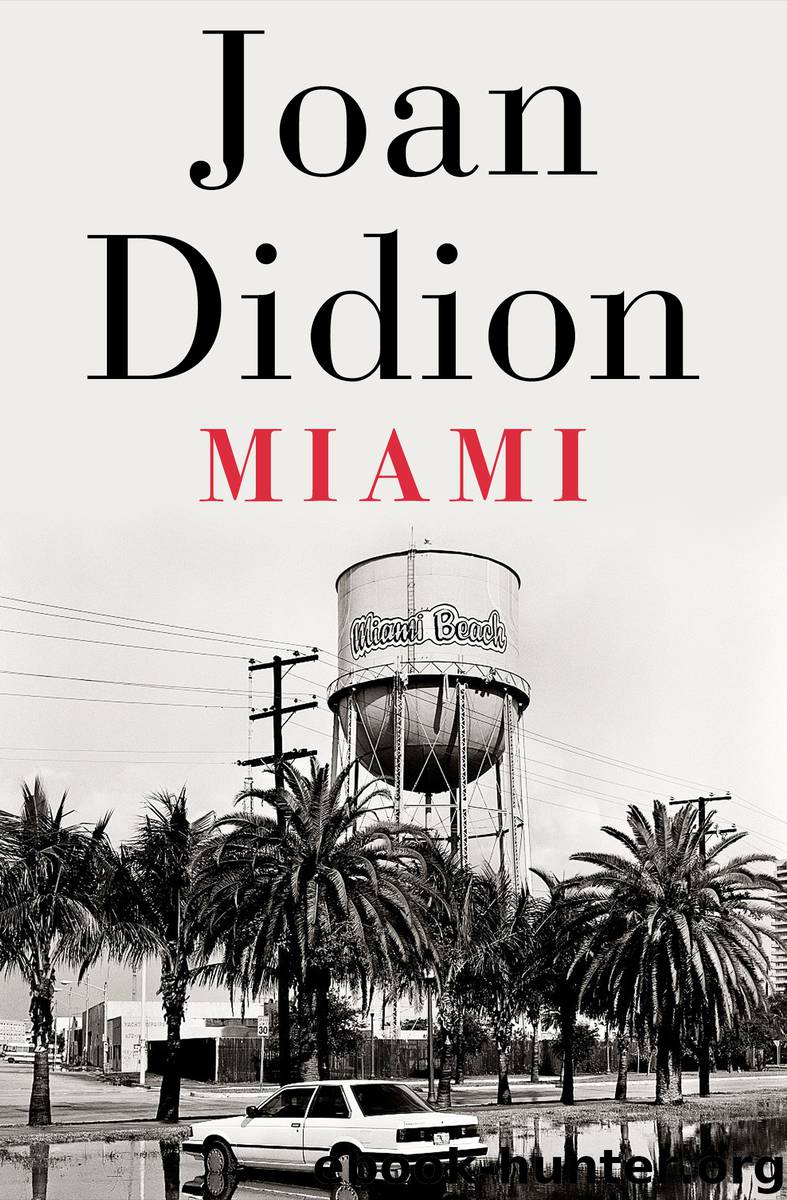 Author:Joan Didion
Language: eng
Format: epub
Publisher: Open Road Media
Published: 2013-07-31T04:00:00+00:00



It was said that Monsignor Walsh . . . had practically unlimited authority to issue visa waivers to children in order to "save them from communism." This episode in our recent history can be seen in retrospect as a period of near-delirium, based as it was on the insistent propaganda that the revolutionary government would strip parents of their authority and send their children to Russia. . . .
The first time I began to see through and reevaluate a few things was when I was working at Opa-Locka, one of the camps where they brought the children who came alone from Cuba. Opa-Locka was managed by the Jesuits. Again and again I asked myself what had motivated these parents to send their children alone to the United States. . . .
Sometimes we would give little talks to the American Legion Auxiliary ladies, who were fascinated to see these white Cubans who knew how to eat with knives and forks . . . but most of all they wanted to hear the horrible story of how and why we were there: the incredible and sad tale of how communism, in order to destroy parental authority, had been going to put us on boats bound for Russia. . . . We would sing Cuban songs and the old ladies would go home crying.
It must be said that the Americans were using the Cubans: the mass emigration, the children who came alone . . . The departure of the children was used largely as a propaganda ploy. What came out of the camps would be a wounded generation. . . .
These accounts, however colored, are suggestive. The parents in Cuba had been, as the children put it together, the victims of una estafa, a trick, a deceit, since the distinction between being banished to camps in the USSR and banished to camps in the United States lacked, for the children, significance. The nuns in the camps, who had advised their charges that one day they would appreciate this distinction, were, as the children saw it, equally the victims of una estafa. The children themselves, some of whom had later become these Cubans outside Cuba but estranged from el exilio, these middle-aged scholars and writers whose visits to Miami necessitated metal detectors, had been, as they saw it then and saw it still, "used" by the government of the United States, "utilized" by the government of the United States, "manipulated" by the government of the United States, made by the government of the United States the victims of a "propaganda ploy"; a way of talking about the government of the United States, as it happened, indistinguishable from what was said every day in exile Miami.
Download


Copyright Disclaimer:
This site does not store any files on its server. We only index and link to content provided by other sites. Please contact the content providers to delete copyright contents if any and email us, we'll remove relevant links or contents immediately.