Merv by Merv Griffin
Author:Merv Griffin [Griffin, Merv] , Date: January 5, 2018 ,Views: 758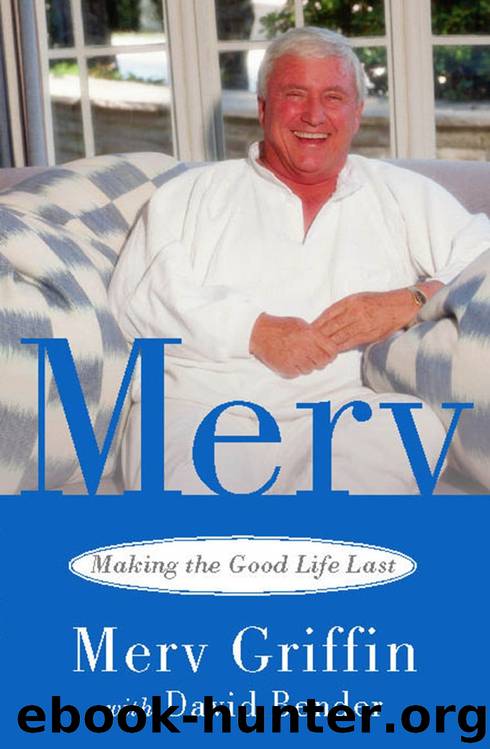 Author:Merv Griffin [Griffin, Merv]
Language: eng
Format: epub
Tags: Biography & Autobiography, General, Entertainment & Performing Arts
ISBN: 9781416577768
Google: -7G83_SBxRkC
Amazon: B000XEC3UI
Publisher: Pocket Books
Published: 2007-10-30T07:00:00+00:00



I 'd known President and Mrs. Reagan since their days in Hollywood. Ronnie (as I used to call him back in the days when that was allowed) and I had crossed paths many times, although we didn't become close friends until after he and Nancy appeared on my show while he was Governor of California.
In the spring of 1983, I visited them in the White House for the first time. It was on a Saturday, so they were in their private quarters when I arrived shortly after 11:00 A.M. I rode up the tiny elevator that went directly to the residence. Although it wasn't my first time inside the White House (I'd attended a state dinner during the Ford administration), this would be the first time that I'd ever seen the First Family's private living quarters.
When the elevator door opened, they were both waiting there to greet me. Since we would be having lunch in the residence, they were dressed informally in California ranch-style clothes.
Uncertain of the protocol, I'd chosen to wear my best dark suit. When I saw how casually they were attired, I blurted out, "Oh, that's just great. Here I am dressed like Herbert Hoover and you two look like Roy Rogers and Dale Evans."
I got them laughing right off the bat, which I was hoping to do. I had arrived on a very difficult day. Later that afternoon they would travel out to Andrews Air Force Base for the arrival of the plane bearing the bodies of sixteen Americans who had been killed in the bombing of our embassy in Beirut.
While the president was momentarily busy elsewhere, Nancy took me on a brief tour of the presidential residence. We looked into each of the historic rooms, finally stopping at a small bedroom that she wanted to show me. Nancy had been redoing all the bathrooms, putting in new copper piping because the old plumbing was so corroded.
So there we were—the First Lady of the United States (or FLOTUS as she was referred to in the White House schedule) and me—down on our hands and knees under the sink in this little bathroom. I suddenly realized that somebody else was in the room. When I looked up, I saw that it was the president, standing in the doorway with an amused look on his face, as if to say, "What are you two up to now?"
As all three of us continued the tour, I heard band music coming from somewhere outside. I asked the president if he knew what piece they were playing.
He looked at me quizzically. "You know, Merv, I couldn't really tell you."
I feigned incredulity. "You don't know? Gosh, if it was my garden, I'd certainly know what the band was playing."
Both of them were smiling now. Nancy walked over to a nearby window and opened it. The music came drifting up. It was some kind of march. Trying to hear better, all three of us stuck our heads out the window. At that moment, the daily tour of the White House was passing by immediately below us.
Download


Copyright Disclaimer:
This site does not store any files on its server. We only index and link to content provided by other sites. Please contact the content providers to delete copyright contents if any and email us, we'll remove relevant links or contents immediately.