Marching Powder: A True Story of Friendship, Cocaine, and South America's Strangest Jail by Thomas McFadden & Rusty Young
Author:Thomas McFadden & Rusty Young [McFadden, Thomas & Young, Rusty] , Date: November 28, 2017 ,Views: 830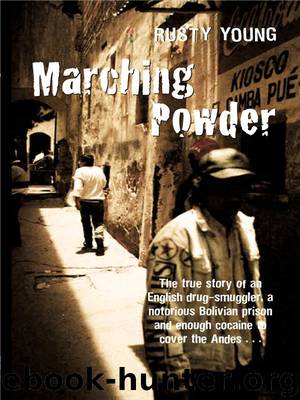 Author:Thomas McFadden & Rusty Young [McFadden, Thomas & Young, Rusty]
Language: eng
Format: epub, mobi, azw3
Tags: Travel, South America, General
ISBN: 9781466817326
Google: MHsMxaRbflQC
Publisher: Macmillan
Published: 2004-05-01T21:11:35+00:00



22
MY TRIAL BEGINS
On the day that my trial was scheduled to begin, I lay in bed all morning, watching Laura on TV. But not even that could make me happy. I didn't bother turning on the light, and I couldn't bring myself to get up and eat breakfast or lunch. My stomach was in knots.
Finally, I rose and began preparing for my court appearance. I took special care to look well dressed. I was ready when the announcement about my court appearance came over the tinny prison loudspeaker system.
'Thomas McFadden to the puerta principal.'
I left my room and walked quickly towards the main courtyard.
'Well, well, well. If it isn't San Pedro's international loverboy,' said a familiar voice as I passed through the Pinos gateway. I turned around and gave a cry of surprise. It was Ricardo. In my misery, I had completely forgotten about him.
'Hey, man!'
'Why do you look so surprised to see me, Inglaterra? Don't you recognise me?' He had obviously heard my name called and had been waiting for me.
'Hey, man! Ricardo.'
'Yes, I'm Ricardo,' he said, taking my hand and shaking it as we walked along.
'Pleased to meet you again. I'm glad you remembered my name at least.' I'd also forgotten how funny he was.
'Hey, man! Where have you been?' I asked.
'What do you mean, where have I been? Where do you think I've been? Did you think I sold my house and moved suburbs or something?'
Ricardo accompanied me to the main gates where I lined up with the other inmates on the transport list. The police marked our names off, and we then filed out into the street and onto the green police bus to be driven across town to the court.
'Good luck, inglés!' he called to me before they closed the doors.
There were about ten of us on the bus, with two guards. They didn't bother handcuffing us. San Pedro was for minimum-security prisoners, and the only time we would be out in the open was when we were getting on and off the bus, when there were plenty of police around. (Later on, they did handcuff us, but that was only after an accomplice had handed one of the inmates a gun in the courthouse and he'd shot three policemen before escaping on foot.)
Download


Copyright Disclaimer:
This site does not store any files on its server. We only index and link to content provided by other sites. Please contact the content providers to delete copyright contents if any and email us, we'll remove relevant links or contents immediately.