Betty Boo by Claudia Piñeiro
Author:Claudia Piñeiro , Date: March 14, 2016 ,Views: 979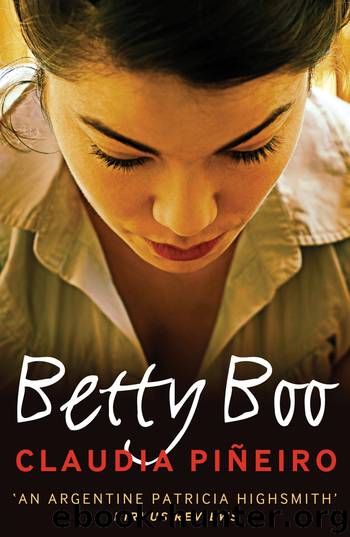 Author:Claudia Piñeiro
Language: eng
Format: epub
ISBN: 9781908524560
Publisher: Bitter Lemon Press
Published: 2015-09-22T16:00:00+00:00



16
The improvised and multitudinous social gathering taking place at Nurit's temporary home has been ravaged by events. The sons, friends, girlfriends and dog, realizing that nobody is going to minister to them for the rest of the day, that nobody is planning a dinner for that night and that nobody is making up beds for them to sleep in, decide to accept a last-minute invitation to a barbecue in Banfield, promising to come back on Sunday if the fine weather continues. Viviana Mansini complains that nobody told her the party included an option to stay over: I haven't closed the windows at home, I haven't left food for the kids. Luckily my kids can cook for themselves, says Carmen. I never leave the windows open, because of the bats, you know? says Paula. The word alone makes Viviana Mansini shudder. There are no bats round my place, she says. How strange, says Carmen, considering that the rest of Buenos Aires is full of bats. Nurit accompanies the Crime boy and Jaime Brena to their car. So what next? the Crime boy asks. I think we should keep this new information to ourselves until we've checked it out, says Jaime Brena. I agree, says Nurit. But I'm the loser who's going to get his balls cut off by Lorenzo Rinaldi when someone breaks this exclusive ahead of us, the boy protests. Jaime Brena looks at him thoughtfully. For the first time it dawns on him that, like it or not, he has no control over the way information about Chazarreta's death is managed. That being the case, he says, without anger or empathy but with resigned conviction, the decision is yours to make, because you're the Crime Editor. It's up to you and Nurit; I'm no longer part of it. You're our honorary adviser, Brena, says Nurit. Honorary and ad honorem, the boy adds. Do you accept? Brena says nothing for a moment, and then: You mean there's not even a fiver in it? All three laugh. He doesn't say it, but the truth is that Jaime Brena would pay to do this job: for a long time he's felt nothing when working on a report or a feature – or rather he does feel something, but it's apathy, frustration, weariness, anger – and now he's rediscovering that vertigo, that passion that drove him to become a journalist in the first place. My honorary and ad honorem opinion is that you need to sit on this exclusive until it's fleshed out, kid, you can't go ahead and publish with so few concrete facts. What about the police? the Crime boy asks. Should we say something to them? All we know is that some time ago a photograph was stolen from Chazarreta's house, and I've already mentioned that to Comisario Venturini himself and he didn't give a damn. I don't think it's necessary, at the moment, to tell him that three people in that photograph have died, either coincidentally or otherwise, and two of them in accidents.
Download


Copyright Disclaimer:
This site does not store any files on its server. We only index and link to content provided by other sites. Please contact the content providers to delete copyright contents if any and email us, we'll remove relevant links or contents immediately.