In Patagonia by Bruce Chatwin
Author:Bruce Chatwin , Date: October 22, 2017 ,Views: 2019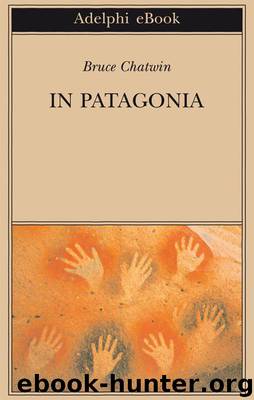 Author:Bruce Chatwin
Language: eng
Format: epub, mobi
Publisher: Penguin Group USA, Inc.
Published: 2011-01-07T05:00:00+00:00



47
'SO YOU want to find Mister Tuffnell,' the barman said. 'It's not easy. First there's a road that's hardly a road and then there's a track that isn't even a track.'
He was a big man in a striped suit and double-breasted waist coat. Seals and keys jingled on his fat gold chain. His hair was engominado, like a tango dancer's, gleaming wings of jet-black hair, but the white was showing at the roots and he looked sick and shaky. He had been a great womanizer and his wife had just got him back.
He drew a map on a paper napkin. 'You'll see the house in some trees by a lake,' he said and wished me luck.
I found the place in the dark. Moonlight glimmered on the pearly shells of fossil oysters. There were some ducks swimming on the lake, black forms on silver ripples. I followed a thread of golden light into a clump of poplars. A dog barked. The door opened and the dog slunk past with a lump of red meat in its mouth. The woman pointed to a cabin in some willows.
'The old man lives over there,' she said.
A straight-backed gentleman in his eighties peered through steel-rimmed spectacles and grinned. His face was shiny pink and he wore khaki shorts. I apologized for the late hour and explained my business.
'Did you ever know a Captain Milward?'
'Old Mill. Course I knew Old Mill. H.M. Consul Punta Arenas de Chile. Irritable old bugger. Can't remember too much about him. Young wife. A bit solid but a good-looker. Look here, come in and let me cook you some dinner. Fancy finding this place on your own.'
Archie Tuffnell loved Patagonia and called her 'Old Pat'. He loved the solitude, the birds, the space and the dry healthy climate. He had managed a sheep-farm for a big English land company for forty years. When he had to retire, he couldn't face the coop of England, and had bought his own camp, taking with him 2,500 sheep and 'my man Gómez'.
Archie had given the house over to the Gómez family and lived alone in a prefabricated cabin. His domestic arrangements were a lesson in asceticism: a shower, a narrow bed, a desk, and two camp stools but no chairs.
'I don't want to get sunk down in an armchair. Not at my age. Might never get up.'
He had two sporting prints in the bedroom, and a sacred corner for photographs. They were sepia photographs, of confident ladies and gentlemen, grouped in front of conservatories or in hunting rig.
He was not a clever man but a wise one. He was a self-centred bachelor, who avoided complications and did little harm to anyone. His standards were Edwardian but he knew how the world changed; how to be one step ahead of change, so as not to change himself. His rules were simple: Keep liquid. Never wait for higher prices. Never use money to show off to your workers.
'They're a proud lot,' he'd say. 'You've got to keep your distance or they think you're a toady.
Download


Copyright Disclaimer:
This site does not store any files on its server. We only index and link to content provided by other sites. Please contact the content providers to delete copyright contents if any and email us, we'll remove relevant links or contents immediately.