Come, Tell Me How You Live by Mallowan Agatha Christie
Author:Mallowan, Agatha Christie [Mallowan, Agatha Christie] , Date: December 12, 2017 ,Views: 1670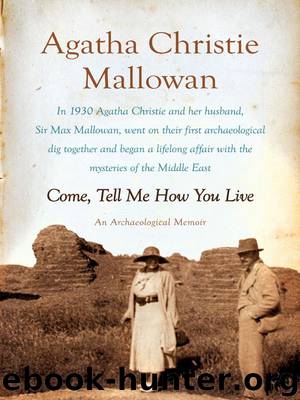 Author:Mallowan, Agatha Christie [Mallowan, Agatha Christie]
Language: eng
Format: epub
Publisher: HarperCollins
Published: 2012-04-10T00:00:00+00:00



Another furious dissension breaks out over the day of rest. The day after pay-day is always a holiday. The Mohammedans claim that since there are more Mohammedans than Christians on the dig, Friday should be chosen as the day of rest. The Armenians refuse, in any case, to work on a Sunday, and say that as it is a Christian dig, Sunday should be the holiday.
We decree that the holiday shall always be a Tuesday, which, so far as we know, is the feast-day of no particular religion.
In the evenings the foremen come to the house, drink coffee with us, and report on the difficulties or problems that arise.
Old Abd es Salaam is particularly eloquent this evening. His voice rises in a long impassioned monologue. I cannot get the hang of it, though I listen attentively. It is, however, so very dramatic that my curiosity is aroused. When Abd es Salaam pauses for breath, I ask Max what it is all about.
Max replies in one brief word: 'Constipation.'
Sensing my interest, Abd es Salaam turns towards me, and pours out further rhetorical details of his condition.
Max says: 'He's had Eno's, Beecham's, vegetable laxatives, and Castor Oil. He's telling you exactly how each one has made him feel, and how none of them has brought about the desired result.'
Clearly, the French doctor's horse medicine is indicated.
Max administers a terrific dose! Abd es Salaam goes hopefully away, and we all pray for a happy result!
I am now quite busy. In addition to repairing pottery, there is the photography – a 'dark room' has been allotted to me. It somewhat resembles the 'Little Ease' of medieval times.
In it, one can neither sit nor stand! Crawling in on all fours, I develop plates, kneeling with bent head. I come out practically asphyxiated with heat and unable to stand upright, and take a good deal of pleasure in detailing my sufferings, though the audience is somewhat inattentive – their entire interest is in the negatives, not in the operator.
Max occasionally remembers to say warmly and tactfully: 'I think you're wonderful, dear,' in a slightly abstracted manner.
Download


Copyright Disclaimer:
This site does not store any files on its server. We only index and link to content provided by other sites. Please contact the content providers to delete copyright contents if any and email us, we'll remove relevant links or contents immediately.