The Songlines by Bruce Chatwin
Author:Bruce Chatwin [Bruce Chatwin] , Date: May 21, 2017 ,Views: 1901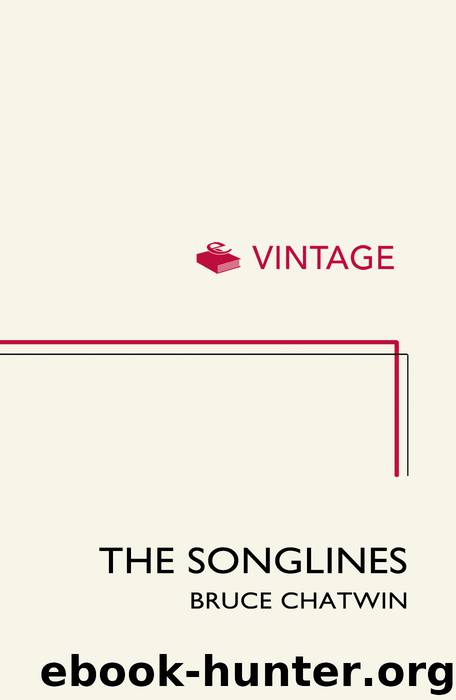 Author:Bruce Chatwin [Bruce Chatwin]
Language: eng
Format: epub
ISBN: 9781448113026
Publisher: Random House
Published: 2008-04-23T16:00:00+00:00



29
TITUS TJILKAMATA, THE man Arkady had come to see, lived about twenty-five miles south-west of Cullen settlement, in a shanty beside a soakage.
Apparently he was in such a foul mood that Arkady, who had been bracing himself for the ordeal, suggested I stay behind until he'd 'taken the temperature'. He enlisted the support of Titus's 'manager', a soft-spoken man with a limp and the nickname 'Limpy'. The two of them set off in the Land Cruiser at nine.
The day was very hot and windy and there were scribbles of cirrus blowing across the sky. I walked over to the dispensary. The noise from the roof was deafening.
'They fix-ed it once,' Estrella yelled. 'Costed two thousand dollars! Imagine!' She was a tiny young woman with a very humorous face.
I climbed up to inspect the damage. The job had been hopelessly botched. All the roof timbers were askew: in the not unforeseeable future, the building was going to collapse.
Estrella sent me over to Don, the works manager, to ask him for a hammer and roofing nails. 'None of your business,' he said. 'Or mine.'
The work had been done by some 'shit-artist' from Alice.
'That doesn't lessen the risk', I said, facetiously, 'of one suicidal Spanish nun. Or a child cut in two when a sheet blows off.'
Don relented with bad grace and gave me all the nails he had. I spent a couple of hours hammering down the sheets and, when the job was done, Estrella smiled, with approval.
'At leasted I can hear myself think now,' she said.
On my way back from returning the hammer, I looked in on Rolf at the store.
Nearby, sheltering from the wind behind a ring of empty drums, a party of men and women were playing poker for very high stakes. A man had lost 1,400 dollars and was resigned to losing more. The winner, a giantess in a yellow jumper, was slapping her cards on to the groundsheets with the droop-mouthed, hungry expression of ladies at a casino.
Rolf was still reading Proust. He had left the Duchesse de Guermantes's dinner party and was following the Baron de Charlus through the streets to his apartment. He had a Thermos of black coffee, which he shared with me.
'I've got someone here you should meet,' he said.
He handed a toffee to a small boy and told him to run and fetch Joshua. About ten minutes later, a middle-aged man appeared in the doorway, all leg and less body, very dark-skinned in a black cowboy hat.
'Ha!' said Rolf. 'Mr Wayne himself.'
'Boss!' said the Aboriginal, in a gravelly American accent.
'Listen, you old scrounger. This is a friend of mine from England. I want you to tell him about the Dreamings.'
'Boss!' he repeated.
Joshua was a famous Pintupi 'performer', who could always be counted on to give a good show. He had performed in Europe and the United States. On flying into Sydney for the first time, he mistook the ground lights for stars – and asked why the plane was flying upside down.
I followed him home along a winding path through the spinifex.
Download


Copyright Disclaimer:
This site does not store any files on its server. We only index and link to content provided by other sites. Please contact the content providers to delete copyright contents if any and email us, we'll remove relevant links or contents immediately.