The Big Twitch by Sean Dooley
Author:Sean Dooley , Date: June 7, 2017 ,Views: 1906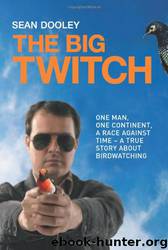 Author:Sean Dooley
Language: eng
Format: epub
Tags: BIO000000
ISBN: 9781741159165
Publisher: Allen & Unwin Pty Ltd
Published: 2005-09-30T16:00:00+00:00



CHAPTER 18
16 July, Stuart Highway, 19 kilometres south of the
Northern Territory–South Australia border:
477 species
The minibus rolled at around a hundred kilometres an hour, killing the driver. Six passengers survived but due to the remoteness of the crash site it would be seven hours before they were finally airlifted by the Flying Doctor Service to Alice Springs. The greatest three weeks of my life were at an end.
It was August 1988 and we were on the homeward leg of a Monash University Biology Society field trip to Kakadu. I wasn't even a student at Monash but, through the agency of Puke, I had weaselled my way onto the trip. Puke and I had hijacked the itinerary somewhat in order to satiate our twitching needs. To that point it really had been the greatest three weeks of my life. Experiencing amazing country, hanging out with a bunch of like-minded souls. New birds every day, partying every night. And to top it all off I got together with a girl who actually had half an interest in birds.
The morning of the crash had started well enough. We had been at the campground at Uluru as the sun rose on that magnificent rock. Unfortunately, in our effort to distance ourselves from the rest of the group for a bit of privacy, my new friend and I had set our sleeping bags down by the path to the sunrise viewing spot and were caught in flagrante delicto by a party of middle-aged German tourists. Hours later, as we passed over the border from the Northern Territory into South Australia, we were lying together on the back seat of the minibus. For some reason I suggested that we shift positions and lie with our heads towards the centre of the road rather than, as we had been, with our heads facing the verge. A couple of minutes later the tyre on our trailer had a blowout causing it to jackknife. Travelling at around a hundred kilometres per hour the violent swerving of the trailer brought the minibus over and we went off the road, rolling several times in the process.
The last thing I saw before I was blinded by the wave of red dust kicked up as we rolled off the road was my girlfriend falling backwards away from me. If we hadn't just changed positions we would have gone over on our necks. Goodbye Sean, goodbye sexy bird girl. As it was, things were pretty dire. The sensation was like being dumped by a giant wave – I couldn't see anything, I couldn't tell which way was up. The sound was extreme – tearing metal, screaming people, a deafening white noise. Suddenly everything stopped and I was lying on my back again, eyes closed. All was totally silent. I could feel pain in my ankles and wiggled my toes to check I hadn't broken anything. Expecting to still be on the back seat of the bus I opened my eyes to find I was staring at bright blue sky, and for a moment it actually did occur to me that I might be dead.
Download


Copyright Disclaimer:
This site does not store any files on its server. We only index and link to content provided by other sites. Please contact the content providers to delete copyright contents if any and email us, we'll remove relevant links or contents immediately.