The Choice by Edith Eva Eger
Author:Edith Eva Eger [Eger, Edith Eva] , Date: November 15, 2017 ,Views: 2664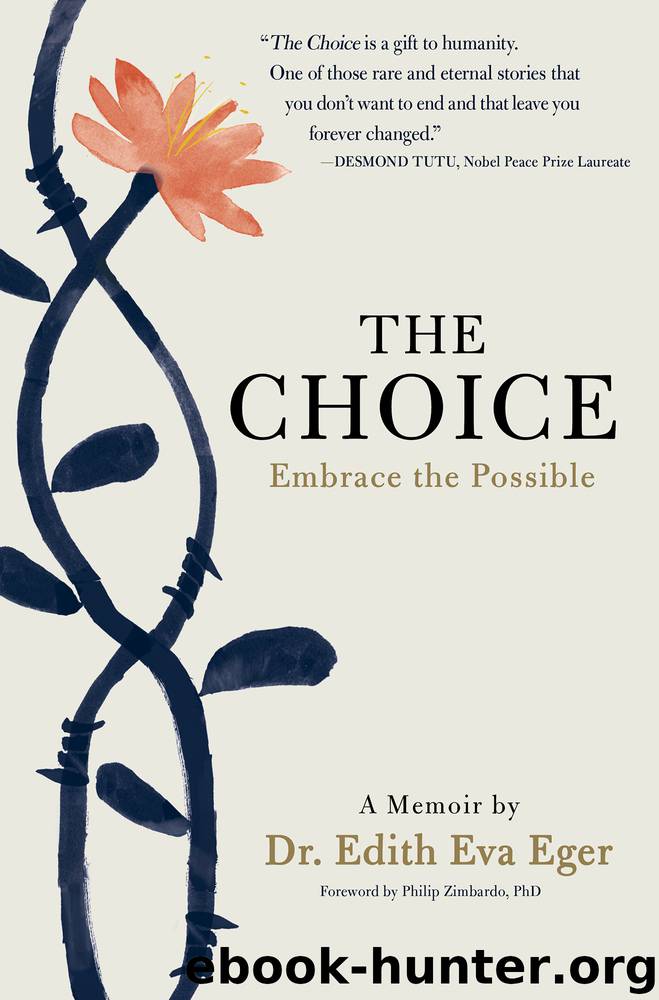 Author:Edith Eva Eger [Eger, Edith Eva]
Language: eng
Format: epub
Publisher: Scribner
Published: 0101-01-01T00:00:00+00:00



CHAPTER 14
From One Survivor to Another
No one heals in a straight line.
One January evening in 1969, when Audrey comes home from a babysitting job, Béla and I ask her and John to sit on the brown Danish couch in the living room. I can't look at Béla, I can't look at my children, I stare at the clean modern lines of the couch, its thin little legs. Béla starts to cry.
"Did someone die?" Audrey asks. "Just tell us."
Johnny kicks his feet nervously against the couch.
"Everything's fine," Béla says. "We love you both very much. Your mother and I have decided that we need to live in separate houses for a while." He stutters as he speaks, the sentences last a year.
"What are you saying?" Audrey asks. "What's going on?"
"We need to explore how to have more peace in our family," I say. "This isn't your fault."
"You don't love each other anymore?"
"We do," Béla says. "I do." This is his jab, the one knife he points at me.
"You're not happy all of a sudden? I thought you were happy. Or have you just been lying to us our whole lives?" Audrey has been clutching her babysitting money in her hand—when she turned twelve, Béla opened a checking account for her and said he would double any dollar that she made—but now she throws her money on the couch, as though we have contaminated every good or valuable thing.
* * *
It was an accrual of experiences, not a sudden recognition, that led me to divorce Béla. My choice had something to do with my mother—what she had chosen and what she hadn't been allowed to choose. Before she married my father, she was working for a consulate in Budapest, she was earning her own money, she was part of a cosmopolitan social and professional circle. She was quite liberated for her time. But then her younger sister got married, and the pressure was on her to do what her society and family expected of her, to marry before she became an embarrassment. There was a man she loved, someone she met through her work at the consulate, the man who had given her the inscribed copy of Gone with the Wind. But her father forbade her to marry him because he wasn't Jewish. My father, the celebrated tailor, fit her for a dress one day, he admired her figure, and she opted to leave the life she had chosen for herself in favor of the life she was expected to live. In marrying Béla, I feared I had done the same thing—forgone taking responsibility for my own dreams in exchange for the safety Béla provided me. Now the qualities that had drawn me to him, his ability to provide and caretake, felt suffocating, our marriage felt like an abdication of myself.
I didn't want the kind of marriage my parents had—lonely, lacking in intimacy—and I didn't want their broken dreams (my father's, to be a doctor; my mother's, to be a career woman, to marry for love).
Download


Copyright Disclaimer:
This site does not store any files on its server. We only index and link to content provided by other sites. Please contact the content providers to delete copyright contents if any and email us, we'll remove relevant links or contents immediately.