No Room for Small Dreams by Shimon Peres
Author:Shimon Peres , Date: November 23, 2017 ,Views: 1826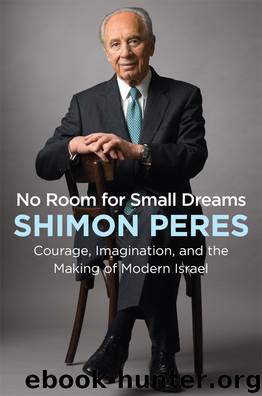 Author:Shimon Peres
Language: eng
Format: epub
Publisher: HarperCollins
Published: 2017-08-02T04:00:00+00:00



CHAPTER 5
BUILDING THE START-UP NATION
The early Jewish pioneers arrived in the land of Israel with nothing, only to find a place that offered almost nothing in return. They found that the land—mostly a disobliging, stony soil—was unusually challenging for growing food. Half of it, the Negev, in the south, was desert. Water shortages were so chronic that they dried up the beds of the Jordan River and threatened to empty the Sea of Galilee. The more fertile north was plagued by malaria. It was a holy place, but they would find it was not an oily place—one of the few stretches of land in the region without deposits of petroleum. The early pioneers faced a staggering challenge without expertise or experience. The ending of their story wasn't fated to be happy.
And yet today, nearly seventy years after the founding of the state, Israel is not a hopeless desert of permanent poverty—it is a technological miracle, a hub of scientific enterprise that is envied by the great economies of the world. In a country with a little more than eight million people, we have become home to more than six thousand start-ups, the highest density found anywhere in the world.
How did this happen? How did we start up a nation from nothing and transform it into a nation of start-ups? The answer lies in a paradox: having nothing was at once our greatest challenge and our greatest blessing of all. Without natural resources, our hopes were tied to our own creativity. The choice the pioneers faced was stark: succeed or starve. Indeed, the decision to move forward—despite the sheer improbability of success—was not an elective one; it was a matter of necessity. As precarious as our fate in Israel may have seemed, it remained what it always was: our best and only true hope.
So they fought. They planted fields and groves, and beat the desert back into retreat. They dug wells in the sand. When the soil failed to produce and they went to bed hungry, they vowed to find a solution. They started a research institute in 1921, where they could study seeds and soil and irrigation and livestock, where they could search for new ways to eke better crops from the land. Findings made their way to the kibbutzim right away, where they could be put into practice, improved, and refined.
Much of the efforts were focused on mere subsistence. To battle the food shortage, researchers developed seeds and planted crops that could last longer in storage—which is how the cherry tomato got its start. To battle the water shortage, they developed new recycling techniques, until nearly half of their crops were grown with water already once used. They invented a process called drip irrigation, which could water a field with up to 70 percent less water without harming the crops. At the time, they didn't imagine that it would become one of the world's most important agricultural innovations, that it would be exported and replicated to help feed the whole world.
Download


Copyright Disclaimer:
This site does not store any files on its server. We only index and link to content provided by other sites. Please contact the content providers to delete copyright contents if any and email us, we'll remove relevant links or contents immediately.