Full Circle by Michael Palin
Author:Michael Palin , Date: October 30, 2017 ,Views: 2531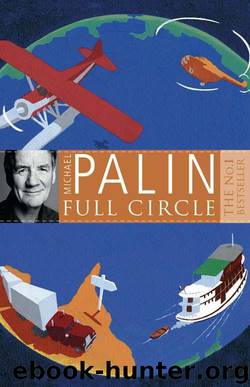 Author:Michael Palin
Language: eng
Format: mobi, epub
Tags: Michael Palin
ISBN: 9780753823255
Publisher: Orion Publishing Group
Published: 0101-01-01T00:00:00+00:00



DAY 113
The noonday heat burns like a blow-lamp in the grounds of the Istana, the palace from which Rajah Brooke ruled Sarawak.
I'm talking to Stephen Yong, a lawyer, prominent member of the Chinese community in Kuching and father of Philip, our fixer, about the rule of the White Rajahs. Because of their tolerance of all the different customs and ways of life of their subjects, he thinks they left a valuable legacy of racial harmony in Sarawak. Their major fault, if local tradition is believed, is that they didn't pay enough attention to local superstition. It was foretold that if the tower of the Istana Palace was ever repainted, bad luck would follow. In 1941, the last Rajah, Vyner Brooke, decided that the whole place should be redecorated to celebrate a hundred years of Brooke rule. The paint had barely dried when the Japanese army swept up the Sarawak River in armour-plated barges. The country was plundered and Vyner Brooke fled to Australia.
Stephen Yong thinks that their influence survives and certainly, looking across at the immaculate river front, Kuching glows with the civic pride of an overgrown English market town. But rising in the distance and for some reason strangely segregated from the rest of the city, are grandiose corporate towers with more echoes of Seoul and Shanghai than Cirencester. This is where the future lies, and it won't be quaint.
Download


Copyright Disclaimer:
This site does not store any files on its server. We only index and link to content provided by other sites. Please contact the content providers to delete copyright contents if any and email us, we'll remove relevant links or contents immediately.