Kiwi Tracks by Lonely Planet
Author:Lonely Planet [Stevenson, Andrew] , Date: November 9, 2017 ,Views: 989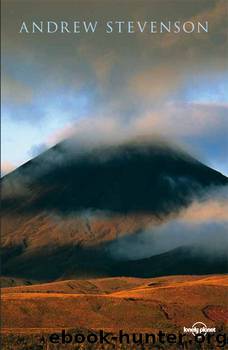 Author:Lonely Planet [Stevenson, Andrew]
Language: eng
Format: epub
ISBN: 978-1-74220-480-2
Publisher: Lonely Planet Publications
Published: 2005-11-09T05:00:00+00:00



Attention railway passengers. This railway station, bikes, animals, and property are all PRIVATELY OWNED. This is a four-wheeler and trail-bike business, and we live here. This is a private home and not a railway station. Please refrain from smoking and dropping your butts and we will refrain from dropping our butts on your porch.
I am the only person to disembark and the conductor, who doubles as a baggage handler, shoves my backpack to the door of the baggage wagon.
'Strewth,' he says. 'What have you got in there, your grandmother?'
'Uh-uh. My computer.' I grab the pack. 'Do you mind helping me hoist this on my back?'
I must have several kilos worth of maps, books, magazines and brochures stuffed into the bottom of the plastic lining bag. By the time I finish this trip, with the ballast the pack is gaining and the weight I am losing, I will weigh considerably less than the pack will. The conductor manoeuvres the pack to the edge of the carriage, holding it upright while I slip my arms into the shoulder straps. I take the weight and stagger reluctantly off, barely able to remain upright.
Despite the ponderous clouds above, the evening sky to the west is clear, lighting up the volcanic slopes with its sharp evening light. While the South Island's mountains were pushed up gradually by shifting plates in the earth's crust, those in the North Island were formed by violent and dramatic volcanic explosions caused by earthquakes and subterranean upheavals along a huge, central plateau.
I totter to the nearest backpackers lodge. Walking into the lounge, I recognise someone – the Englishman walking the length of New Zealand. He is deeply tanned and sits by himself on a sofa. He does not talk to anyone; I say hello but he barely responds. I wonder if he is catatonic because of this walk, or if he is equally reticent at home.
That evening I climb into an upper bunk bed. My Italian bunkmate below sleeps fitfully, and with every toss and turn of his considerable mass, he shakes the rickety bunk. Each time I panic, believing it is an earthquake; given my reading about the geology of the region, the misapprehension is forgivable. I ease myself to sleep by rationalising that if there were an earthquake and the bunk collapsed, at least I would have a soft landing.
Download


Copyright Disclaimer:
This site does not store any files on its server. We only index and link to content provided by other sites. Please contact the content providers to delete copyright contents if any and email us, we'll remove relevant links or contents immediately.