Beyond the Coral Sea by Michael Moran
Author:Michael Moran , Date: October 22, 2017 ,Views: 1500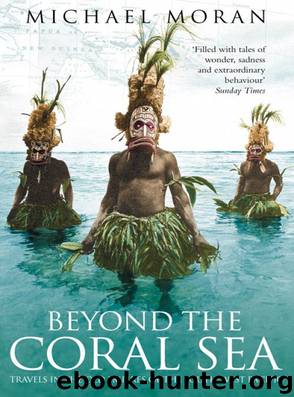 Author:Michael Moran
Language: eng
Format: mobi, epub
ISBN: 9780007393251
Publisher: HarperCollins Publishers
Published: 2013-02-08T17:04:43+00:00



1An ankle-length piece of cloth wrapped round the waist. It is worn throughout the island provinces, also by more traditional men. It was originally introduced by Europeans offended by traditional dress.
1Vaneriu are large malagan masks carved in various styles, each type possessing complex symbolism.
12. Grand Opening – Tsoi Island General Store
The banana boat had promised to collect me early in the morning but it was late. According to my agitated boatman, the price of fuel had doubled overnight. Instead of being annoyed, I thought the whole notion quite an amusing way of relieving me of kina. I put my arm around his shoulder as we stood on the beach.
'Look, Elisha, I simply cannot go to Tsoi for that price. The whole thing is off. Sorry. Just can't afford it.'
We soon returned to the original figure, but I knew there was not much profit in it for him. Petrol was expensive, sometimes difficult to obtain, and it was a long trip. It is difficult to balance a sense of justice with avoiding being taken for a soft touch as you haggle for transport in the islands. Demas had decided to accompany me to the grand opening of the general store at Mansava on Tsoi Island, situated just three degrees below the equator. The ceremony would be unique as this was the first time in history that a store had opened there. Word had spread quickly around the nearby island groups that Justin Tkatchenko had decided to open a joint venture with Bosston Tusikai, the leader of a local clan and owner of a small guesthouse. Many speculated it would fail miserably and mistrusted his motives. Others saw it as a sign of rare genuine concern for the local community. Boats had been ferrying supplies to the island all week and excitement was running high.
On this trip I at least had the luxury of a plank to sit on. The outboard motor opened up and we skimmed across the clear water between the small islands that litter the approach to Byron Straits. The surface changed from mirror smooth to choppy about an hour into the trip. The wind rose and then rain squalls hit us hard. The dinghy began to buck and slam into the waves. I covered myself in a plastic tarpaulin but Demas continued to stand bolt upright at the prow, riding the swell with all the presence of a chief being delivered to his people.
As we arrived at Mansava, the sun broke across the beach. A hundred canoes rested lightly on warm crystal water the colour of pale viridian. Bleached driftwood littered the sand. The cool verandas of huts, built within groves of coconut and pandanus palms, were festooned with swathes of magenta bougainvillea. Miniature white orchids cascaded from the eaves while ladders led up to sleeping rooms opening off airy atriums.
Local people ambled listlessly along the carefully-raked paths. Many were wearing the classic fashion statement in the islands, scarlet cloth against ebony skin. Faces were subdued from pure Melanesian to island mixtures that reminded one unexpectedly of Tunisia or Morocco.
Download


Copyright Disclaimer:
This site does not store any files on its server. We only index and link to content provided by other sites. Please contact the content providers to delete copyright contents if any and email us, we'll remove relevant links or contents immediately.