The Ogre by Doug Scott
Author:Doug Scott [Doug Scott] , Date: February 13, 2018 ,Views: 1930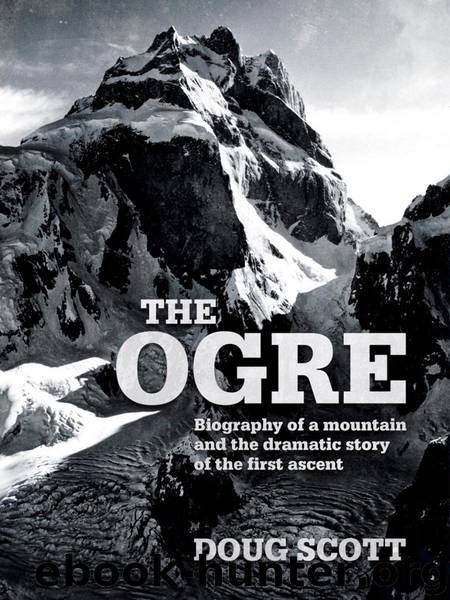 Author:Doug Scott [Doug Scott]
Language: eng
Format: epub
ISBN: 9781911342809
Publisher: Vertebrate Publishing
Published: 2017-02-13T05:00:00+00:00



Julian Vincent 'Mo' Anthoine (1939–1989) was born in Kidderminster where his father was a carpet designer. Mo was not so tall but he was extremely well built with a barrel chest – he once stood in for Sylvester Stallone on a film shoot in Israel along with Joe Brown. He developed into a powerful rock climber, repeating many of the hardest routes during the 1960s in North Wales and putting up one or two of his own such as The Groove on Llech Ddu. He went on a two-year grand tour hitch-hiking down to Thailand and then on down to New Zealand and Australia with a professional boxer from Derbyshire, Ian Cartledge, known as 'Foxy' on account of his red hair.
In Australia, Mo worked in a blue asbestos mine that was, most probably, the cause of his death from a brain tumour twenty-six years later. It is known that asbestosis and related conditions can show up many years after exposure. In those twenty-six years he packed in a lot of climbing, first in the Alps where he survived a horrendous six-day storm on Mont Blanc when six other climbers perished. He went on to make the first British ascent on Fitz Roy in Patagonia, Roraima in Venezuela and Trango Tower in the Karakoram the year before the Ogre.
He always said about climbing, 'Every year you need to flush out your system and do a little suffering'. Paradoxically his trademark was that climbing had to be fun and one had to stay in control. To that end, he was not averse to using fixed ropes on winter climbs in the Alps and in the Greater Ranges.
Mo avoided publicity and largely funded his expeditions from making the Curver ice axe and the Joe Brown safety helmet, both of which became enormously popular. He will be remembered for helping to keep the anarchic element in mountaineering from being swamped by commercial pressures and the showbiz celebrity culture.
Mo was like François Rabelais (1491–1553), always extravagantly humorous, robustly outspoken and often coarsely indecent – Mo could have been a student of his or even vice-versa. He used his talents to attack the new orthodoxy creeping into climbing, being the main iconoclast – a rebel against conformity. As he lay dying in hospital, visitors would arrive in his room to find him lying there in bed, cross-eyed, tongue hanging out and making grunting noises that had his friends thinking he hadn't got long left, until Mo shot up in bed grinning 'Fooled ya'. Such was his sense of fun, repartee and honesty that 500 people turned up at his funeral in Nant Peris in August 1989.
Download


Copyright Disclaimer:
This site does not store any files on its server. We only index and link to content provided by other sites. Please contact the content providers to delete copyright contents if any and email us, we'll remove relevant links or contents immediately.