Unstoppable: My Life So Far by Maria Sharapova
Author:Maria Sharapova [Sharapova, Maria] , Date: November 13, 2017 ,Views: 2017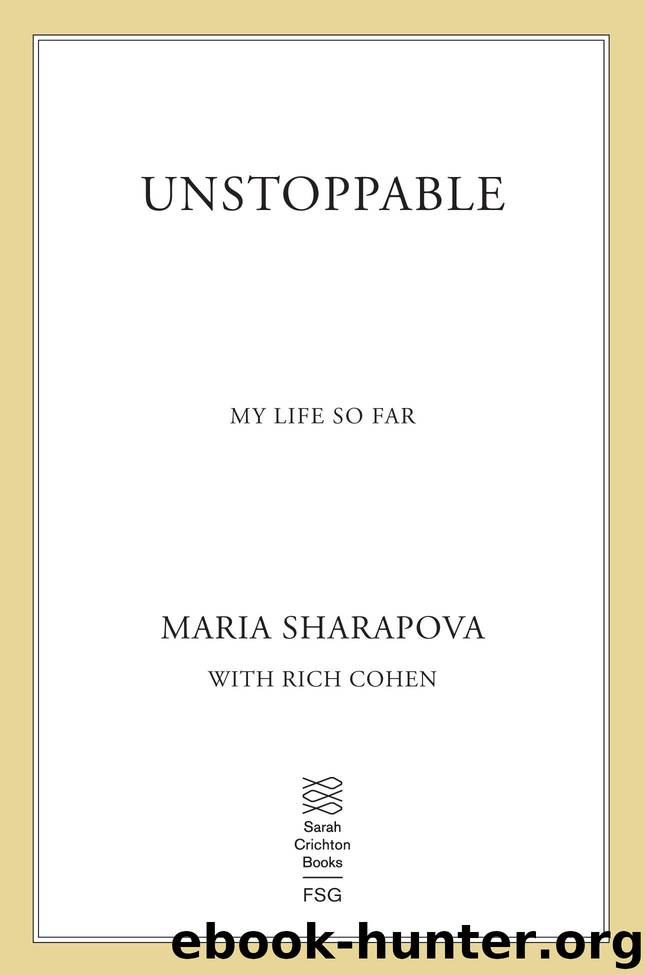 Author:Maria Sharapova [Sharapova, Maria]
Language: eng
Format: azw3
Publisher: Farrar, Straus and Giroux
Published: 2017-09-12T04:00:00+00:00



TWELVE
And so began the crazy first days of being famous. The telephone rang, the agents called, the offers poured in. Everything was perfect and everything sounded great. How do you say no when the world is on the line? I would eventually become a great pitchperson, a master of selling products, a name in the corporate world. But it really began with a single company—Motorola.
It was the Wimbledon final that did it, not the match but what happened immediately after. I took my father's flip phone and tried to call my mom but could not get a signal. From there, the ad wrote itself. It would be me on a tennis court after a big match, wanting to call my mom and this time finally having the right phone for the job. Motorola called IMG the day after Wimbledon, and we did the shoot. The ad shows me, racket in hand, chatting on the new Motorola RAZR phone, which wasn't even out yet. They gave me some kind of prototype to carry around. It was so cool, superthin and sleek. I went from having a piece-of-crap phone to being like James Bond, flashing the newest piece of high-tech hardware. I remember eating lunch at a sushi place in New York right around this time. I was holding the RAZR phone, and a businessman was eyeing me, and the RAZR, like a hawk. Finally, he came over and said, "Excuse me, how did you get that phone?" I told him that I knew someone at Motorola. But I wanted to say: "Because I won Wimbledon, that's how."
They made me the face of Motorola, which itself became a story: that I was just a kid and yet was representing a huge brand, with ads everywhere. People assumed I was making millions of dollars, but it was really not a huge deal. Max's idea was to go with a cool, quality brand—we'd gotten bigger offers from competing phone companies—and let other work flow from that. "We don't want to tarnish your name by going downscale," he explained. And he was right. The offers flooded in after Motorola. I was soon working for half a dozen blue-chip companies. TAG Heuer. Land Rover. I'd had a sponsorship deal with Nike since I was an eleven-year-old junior, as many tennis players do, but now I actually started doing commercials for the company. Bleacher Report put together a slideshow of my greatest commercials. They've got Nike on there, Canon, Head rackets, and a funny thing I did for ESPN. I never planned to become a big pitchperson or public face, it just happened. It was more like a side effect of what I was doing at the tournaments, but it made me famous. All of a sudden, writers were more interested in my life off the court than on the court. I went to the beach, someone snapped a picture of me in a bathing suit, and the next day it was all over the Internet. How crazy is that? And there were rumors.
Download


Copyright Disclaimer:
This site does not store any files on its server. We only index and link to content provided by other sites. Please contact the content providers to delete copyright contents if any and email us, we'll remove relevant links or contents immediately.