Open: An Autobiography by Andre Agassi
Author:Andre Agassi , Date: March 25, 2014 ,Views: 906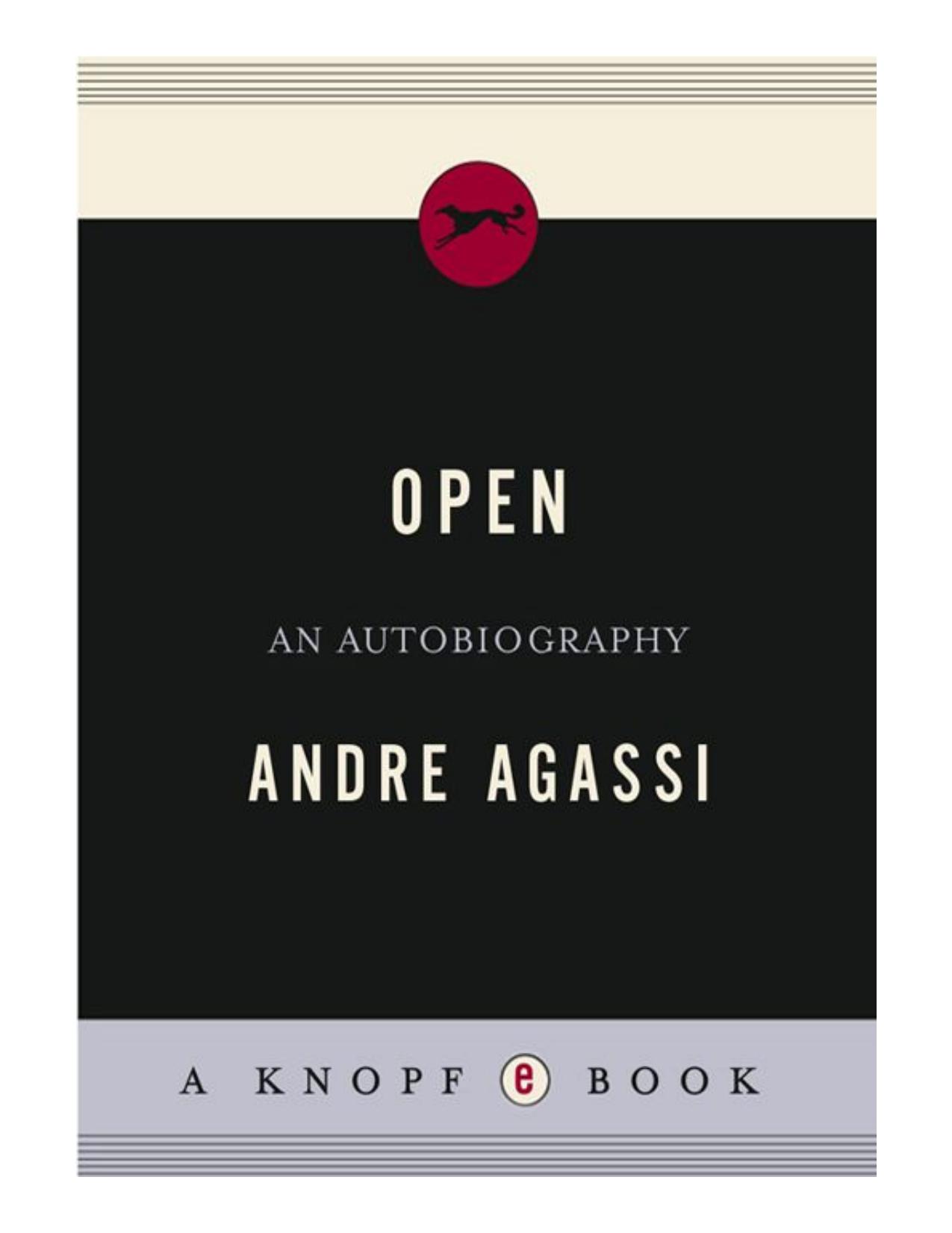 Author:Andre Agassi
Language: eng
Format: mobi, epub
Tags: Biography & Autobiography, Tennis, Sports & Recreation, Sports
ISBN: 9780007346301
Publisher: Vintage
Published: 2009-11-09T06:00:00+00:00



16
I THINK you should get rid of that hairpiece, Brooke says. And that ponytail. Shave your hair short, short, and be done with it.
Impossible. I'd feel naked.
You'd feel liberated.
I'd feel exposed.
It's as though she's suggesting I have all my teeth pulled. I tell her to forget it. Then I go away and think about it for a few days. I think about the pain my hair has caused me, the in-convenience of the hairpieces, the hypocrisy and the pretending and the lying. Maybe it isn't crazy after all. Maybe it's the first step toward sanity.
I stand before Brooke one morning and say, Let's do it.
Do what?
Cut it off. Let's cut it all off.
We schedule the ceremonial shearing for late at night, at an hour normally reserved for séances and raves. It's to be in the kitchen of Brooke's brownstone, after she returns from the theater. (She got the part in Grease.) We'll make a party of it, she says, invite some friends.
Perry is there. And, despite our breakup, Wendi. Brooke is openly irritated by the presence of Wendi, and vice versa. Perry is baffled by it. I explain to Brooke and Perry that despite our romantic history, Wendi is still a close friend, a lifelong friend. Being shorn is a dramatic step, and I need friends in the room for moral support, just as I needed Gil there when I had my wrist surgery. In fact, it crosses my mind that for this surgery I should also be sed-ated. We send out for wine.
Brooke's hairdresser, Matthew, puts my head over the sink, washes my hair, then pulls it all tight.
Andre—are you sure?
No.
Are you ready?
No.
Do you want to do this in front of a mirror?
No. I don't want to watch.
He puts me in a wooden chair and then—snip. There goes the ponytail.
Everyone applauds.
He begins cutting the hair on the sides of my head, tight, close to the skull. I think of the mohawk at the Bradenton Mall. I close my eyes, feel my heart pound, as if I'm about to play a final. This was a mistake. Maybe the defining mistake of my life. J.P. warned me not to do this. J.P. said that whenever he attends one of my matches, he hears people talking about my hair. Women love me for it, men hate me for it. Now that J.P. has quit pastoring, devoted himself to music, he's been doing some work in advertising, writing jingles for radio and TV commercials, so he spoke with some authority when he proclaimed: As far as the corporate world is concerned, Andre Agassi is his hair. And when Andre Agassi's hair is gone, corporate sponsors will be gone.
He also suggested pointedly that I reread the Bible story about Samson and Delilah.
As Matthew cuts and cuts, and cuts, I realize I should have listened to J.P. When has J.P.
ever steered me wrong? With clumps of my hair falling to the floor, I feel clumps of me falling away.
It takes eleven minutes. Then Matthew whisks away the smock and says, Ta-dah!
I walk to the mirror.
Download


Copyright Disclaimer:
This site does not store any files on its server. We only index and link to content provided by other sites. Please contact the content providers to delete copyright contents if any and email us, we'll remove relevant links or contents immediately.