On Tennis by David Foster Wallace
Author:David Foster Wallace , Date: August 15, 2017 ,Views: 841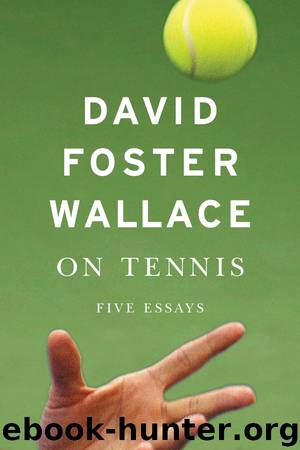 Author:David Foster Wallace
Language: eng
Format: epub
Tags: Literary Collections / Essays, Sports & Recreation / Essays, Sports & Recreation / Tennis
Publisher: Little, Brown and Company
Published: 2014-06-24T04:00:00+00:00



you can see them, Them, coming, an enormous serpentine mass, the crowd, still at 1615h. coming, what looks from this distance like everybody in New York City who hasn't retreated to the Hamptons for the long summer weekend. The U.S. Open is a big deal for NYC. Mayor Dinkins is gone—the Dinkins who used to reroute landing patterns at LaGuardia just for the Open—but even under Rudy Giuliani, for a fortnight a city that ordinarily couldn't give two chomps of its gum for a sport as patricianly non-contact as tennis is into the game in a very big way. Thirty-year-old arbitrageurs in non-rented tuxes at the Bowery Bar dissect various men's matches and speculate on how Seles's hiatus from the game will affect her endorsement contracts now that she's back. Croatian doormen bemoan Ivanisevic's early departure. On the subway, a set of tough chicks in leather and fluorescent hair concur that even though Graf and Seles and that Spanish what's-her-face with the hymen16 in her name might rule, let's don't for a m.-fucking second count out the U.S.'s Zina G. 'cause this is her swan-song before the like bow-out. Or e.g. Friday, 1 September, the day after Agassi's five-set comeback against Corretja, a Lebanese driver on the Grey Line bus in from LaGuardia and a cigar-chewing old passenger he doesn't know from Adam bond over their shared assessments of Agassi's rehabilitation as a man:
"It is like he used to be brat, arrogant—you know what I am saying?"
"He grew up is what you're saying. Now he's got balls."
"Last night, this was a great game he played. This is what I am saying."
"He used to just be this hairball. Now he grew up. Now he's a person."17
But so they're coming, 40,000 yesterday and 41,000 today, ready to shell out $25–$30 for a ticket if they can even get one.18 They come by infernal and Stygian IRT subway out to the end of the #7 line, the Shea-Willets stop. They converge on NE Queens via the Van Wyck and L.I. and Whitestone Expressways, the Interborough, the Grand Central Parkway, the Cross Bay, bringing much ready cash and whatever religious medals apply to parking spaces. City dwellers navigate by limo, cab, or bus the empty canyons of L.D.W.'s Manhattan, bound for 36th St. and the Tunnel or 59th and the Queensborough Bridge, then travel forever19 up Northern Boulevard, bringing coolers and blankets and rackets and butt-cushions with GIANTS and JETS on them and sunscreen and souvenir hats from last year's Open, up Northern Blvd. under circling air traffic until the landmarks start emerging—the squat neutron-blue ring of nearby Shea Stadium; the huge steel armillary sphere and Tinkertoy-shaped tower of the '39 World's Fairgrounds that adjoin the National Tennis Center in Flushing Meadow Corona Park20; or (if coming in from the S-SW) the massive exoskeleton of a whole new N.T.C. Stadium Complex, incomplete and deeply eerie as seen from the Grand Central Pkwy., a huge exposed ribcage looming over fields of raw dirt and construction-site clutter and dumpsters from the New Style Waste Disposal Co.
Download


Copyright Disclaimer:
This site does not store any files on its server. We only index and link to content provided by other sites. Please contact the content providers to delete copyright contents if any and email us, we'll remove relevant links or contents immediately.