Getting a Grip by Monica Seles
Author:Monica Seles , Date: August 28, 2017 ,Views: 856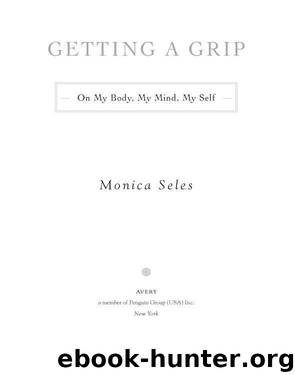 Author:Monica Seles
Language: eng
Format: epub, mobi
Publisher: Penguin USA, Inc.



25
A Hag with a Frying Pan
When I got back to Florida, Tony hooked me up with a new coach. If I was going to make a serious run toward reclaiming a top-five spot, I needed to get back in shape and I needed a support system. Going to Oklahoma on my own was a necessity, but I couldn't pull something like that at a Tier I tournament. Those were a whole different world. The prize money is higher and the caliber of players shoots way up. Tier I's have a higher point value in determining the rankings, so the top players always show up. Coaches and hitting partners form a buffer for a player, and at high-profile media events like the Grand Slams an intermediary is essential. The pressure is amped, the fans are in the tens of thousands, and the pressroom is filled with journalists looking for a story. In between going to mandatory sponsor events and signing autographs for fans, players have no time to handle media requests on their own. They don't even have the time to secure their own courts for hitting. Without a team behind me I'd burn out by the second round. I'd always had structure and I thrived on it. I missed that. I couldn't replace my dad but I could try to in-still some structure again. Enter Bobby Banck.
Bobby had been my good friend Mary Joe Fernandez's coach for years. After an incredible career, she had recently retired and was now busy planning her spring wedding to my agent, Tony. Top coaches are rarely available—a precious few pop onto the market with the start of every year, and we were almost in March—so I jumped on the opportunity. I was sure Bobby, a fitness fanatic with a tireless work ethic, would be my golden ticket to losing weight. A hard-core, take-no-prisoners approach was what I needed. At least that's what I told myself, and that's what I told Bobby. We dove right in. His main concern with Mary Joe had been getting her to gain weight and strength. That was most certainly not my problem, and Bobby came prepared. He knew my weight was my greatest handicap, so our first goal was for me to drop twenty pounds. He put me on a diet of early-morning workouts, steamed chicken breasts, and intense five-hour hitting sessions. For a month I was a model athlete. I counted every calorie (1,200 a day) and pushed myself to the brink during our workouts. I memorized every word of the book Body-for-LIFE, elevated the author Bill Phillips into godlike status in my mind, devoured the before-and-after photos of dramatically transformed women who looked like Linda Hamilton during her Terminator heyday, and became obsessed with the potential power of protein powder. In the mornings, while I poured scoops of the grainy white stuff into the blender, I convinced myself that it was the long-sought-after elixir that would melt the pounds off my midsection. I was doing the same
Download


Copyright Disclaimer:
This site does not store any files on its server. We only index and link to content provided by other sites. Please contact the content providers to delete copyright contents if any and email us, we'll remove relevant links or contents immediately.