My Turn by Johan Cruyff
Author:Johan Cruyff [Cruyff, Johan] , Date: August 31, 2017 ,Views: 2001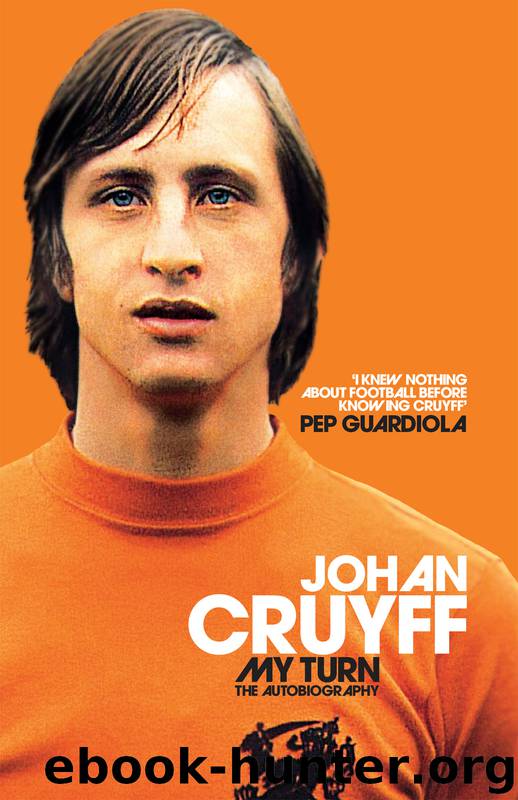 Author:Johan Cruyff [Cruyff, Johan]
Language: eng
Format: epub
ISBN: 9781509813933
Publisher: Pan Macmillan



8
I was able to follow every move of Jordi's at Manchester United because for the first time in my life I was no longer active in football. I'd stopped being a player and I'd stopped being a coach. But after that I didn't get bored for a minute. I'm determined to go on evolving; that's always been part of it. As a footballer and a trainer I was always an idealist, so I wanted to apply my experiences to new challenges.
That idea worked from day one. Pretty much everything I came into contact with had something to do with the things I'm good at. Apart from Jordi's matches I had my weekly column in the Telesport section of De Telegraaf, articles in Spain, and I did commentaries on matches for the Dutch public service broadcaster, NOS. I was also asked to support health clinics. I was busy expanding my horizons and it felt good. I didn't have to do anything else. That's why I actually never missed coaching, not least because it didn't feel good doing something I'd done before. I didn't want to repeat myself, I wanted to move on.
Because I like to look at matters open-eyed, sometimes surprising things cross my path. Like the six-a-side games that I developed with Craig Johnston and Jaap de Groot. Craig is an Australian born in South Africa who ended up in the England squad while at Liverpool. Jaap's mother is American, his father had once been a striker with Ajax, and he spent much of his youth growing up in Texas. So they were both brought up abroad, you might say. They came up with the idea of combining the six-a-side drill with entertainment. That means playing on a smaller pitch, but with goals that are the same size as in normal football. It means you have a lot more goalmouth action, more shots and more scoring.
The football was combined with music, which meant there was something American about it. It was all aimed at entertaining the public and at the same time inspiring young people. I got it straight away. It wasn't just the drill that I'd often had to do during training at Ajax, it was one that I'd later used myself as a coach. In six-a-side you've actually got everything you need. Technique, speed and positional play, because it can be played in three lines and can therefore be transferred to eleven against eleven.
We decided to pour a Cruyff sauce over the rules by making my shirt number 14 run through the games as a kind of thread. For example, a match comprised two seven-minute halves and the field was fifty-six metres long (four times fourteen) and 35.32 metres wide, the 7.32 metres goal width plus fourteen metres on either side. We also came up with all kinds of rules to make the play faster and more attractive. For example, when the ball went out of play you could either throw or kick the ball back in. You couldn't be offside from a throw-in, but you could from a kick-in.
Download


Copyright Disclaimer:
This site does not store any files on its server. We only index and link to content provided by other sites. Please contact the content providers to delete copyright contents if any and email us, we'll remove relevant links or contents immediately.