Kings Cross by Louis Nowra
Author:Louis Nowra , Date: January 10, 2018 ,Views: 1347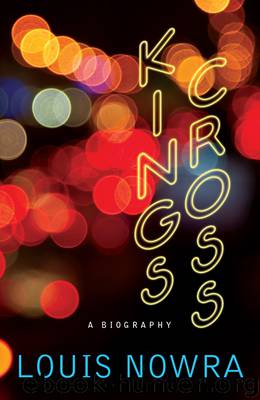 Author:Louis Nowra
Language: eng
Format: epub
Publisher: NewSouth
Published: 2013-08-26T04:00:00+00:00



'You find this ugly, I find it lovely'
WHAT'S CURIOUS ABOUT THE BOHEMIANS of the 1920s and 1930s is how they would live nowhere else in Australia other than Kings Cross but never wrote about it. Jack Lindsay's pretentious and convoluted verse had nymphs, mermaids and the Doge of Venice for subjects. Dulcie Deamer's novels were set in past Biblical and medieval times. It was only years later that both Lindsay and Deamer wrote memoirs about living in Kings Cross during that era.
Kenneth Slessor's early poetry was similar. Through these poems Pans, satyrs, nymphs and gods gambolled. Slessor was reacting against the pervasive bush ballads of Banjo Paterson and grim realism of Lawson but his subject matter had all the substance of fairy floss. And yet he was to become one of Australia's marvellous poets and the unofficial poet laureate of the Cross.
He was born in 1901 in Orange of German–Jewish–Scottish background. The family name Schloesser was Anglicised at the start of the First World War. He married in 1922 when he was twenty-one and his wife, Noela, sixteen. It was a tempestuous relationship with infidelities on both sides. At first he was a journalist for the Sydney Sun but left it for one of the most seminal, original and unconventional newspapers in Australia, Smith's Weekly, staying there for fifteen years and ending up its editor. Widely read, he spoke French, was excellent at chess and had a life-long passion for music. He was fastidious about his appearance and dressed like a dandy with bow ties, sharp suits and waistcoats, cultivating the air of an aristocratic dilettante, and backed it up with scrupulously good manners.
Slessor began writing poetry as a child and in his early twenties he fell under the influence of the artist and writer Norman Lindsay. He collaborated with Lindsay and his son, Jack, on the production of Vision, a short-lived arts magazine that centred on Lindsay's crackpot aesthetic that amalgamated Nietzsche, anti-modernism and the Victorian idealisation of art that transcended drab reality. If anything indicated its contents it was the Norman Lindsay drawing on the cover of a dancing faun chasing an elusive butterfly.
It seemed as if Slessor would continue to write mediocre poetry with inane subjects, but Smith's Weekly would change all that. He was an intensely private person and disliked personal intimacies, but in the strongly informal and masculine world of the satirical newspaper he began to loosen up. Most of the staff were heavy drinkers and in the male ambience of the pub he could be warm and funny, with a liking for vulgarity.
Smith's Weekly had the finest collection of black and white artists ever seen in an Australian newspaper, among them Joe Lynch and Virgil Reilly. Lynch, a tall, gaunt, red-headed Irishman sometimes illustrated Slessor's humorous articles. Lynch's nihilism ('[he] said the only remedy to the world's disease was to blow it up and start afresh') and his stamina for alcohol appealed to Slessor, but it was the poet's partnership with Reilly that helped Slessor realise that the subjects for his light verses were right in front of him in the Cross.
Download


Copyright Disclaimer:
This site does not store any files on its server. We only index and link to content provided by other sites. Please contact the content providers to delete copyright contents if any and email us, we'll remove relevant links or contents immediately.