Annapurna by Maurice Herzog
Author:Maurice Herzog , Date: August 24, 2017 ,Views: 2627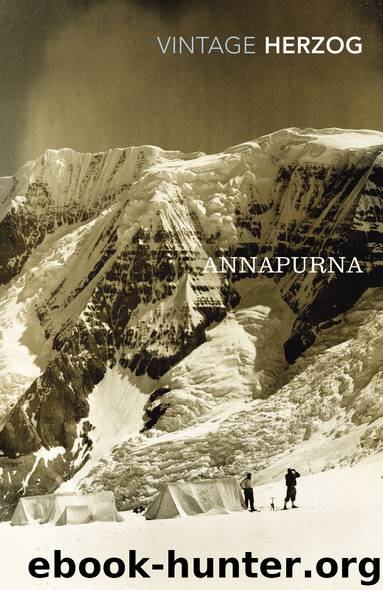 Author:Maurice Herzog
Language: eng
Format: epub
ISBN: 9781409077275
Publisher: Random House



11
Camp II
THE MINUTE I arrived, Terray gave me some boiling hot tea. I was not allowed to get a word in: he forced me to eat, indeed, practically stuffed the food down my throat. In the other tents, the Sherpas were very busy looking after Dawathondup, who was putting up a continuously good performance as an invalid. And as for me, after this very substantial meal I was not in the least worried by the fact that I was tired; this seemed a perfectly natural result of our exertions. At last Terray allowed me to speak and I gave him particulars of the present position of the camps.
'By now most of the equipment is already on the spot. We've got to do one more carry to establish Camp V, which will be the taking-off point for the final attack; we've got it all taped. This time there's a very good chance.'
Terray had apparently completely recovered down at Camp I, from which he had just come up, but he still looked worried.
'Yes, everything will be all right if only the weather holds. The weather reports on the wireless are very bad: the monsoon has reached Calcutta, and it will be here in a few days.'
'Anyway, I'm feeling in splendid form,' I said. 'I'm certain, from the way I've been going at 23,000 feet, that I'll do fine at 26,000, and without oxygen, too.'
But Terray was not so optimistic.
'If we have to plough along as we've been doing so far, it will be a labour of Hercules and we shall end by running into trouble.'
He asked me what I thought of the condition of the climbers up at Camp III, and I had to admit it was not promising. The four I had left up there had struck me as being in a poor way, both in their physical condition and in their morale.
'On the other hand, Lionel, I'm not in the least anxious about us two,' I said. 'What's more, the route is now equipped right up to the glacier. With the four Sherpas we've got here, you and I can now go steadily on up to the top.'
'We'll have to go all out,' replied Terray, enunciating the phrase as though he had just invented it.
'Listen, I'm absolutely certain now: unless there is some unforseeable catastrophe, we'll succeed. Even admitting that the four at Camp III remain in poor form, which I don't think likely – particularly the ones who are better acclimatized – we ought to be able to make it. I suggest that we stay here all tomorrow to give ourselves a rest. We'll have plenty of time to make our preparations, and the day after tomorrow we'll be as fresh as paint and able to go on up from camp to camp. Then of the four who come down here tomorrow, the two strongest, after resting a day, will go up again to back us up. The other two, who will have had the advantage of an extra day's rest, will have plenty of time to follow on a camp behind.
Download


Copyright Disclaimer:
This site does not store any files on its server. We only index and link to content provided by other sites. Please contact the content providers to delete copyright contents if any and email us, we'll remove relevant links or contents immediately.