The Push by Tommy Caldwell
Author:Tommy Caldwell , Date: September 8, 2017 ,Views: 1555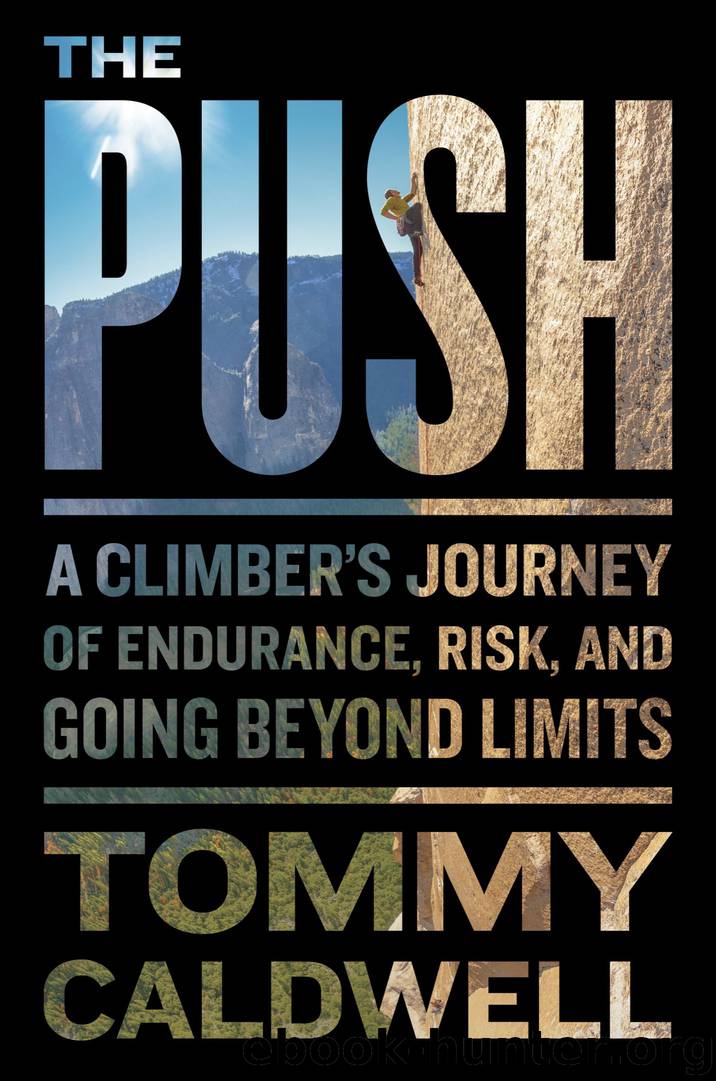 Author:Tommy Caldwell
Language: eng
Format: epub
Publisher: Penguin Publishing Group
Published: 2017-04-14T16:10:07+00:00



PART
THREE
CHAPTER ELEVEN
I run my tongue along my teeth. Ahhh, clean at last. A mint taste replaces the fuzz of microwaved burrito and coffee that had taken up residence for the brushless past week.
As 2009 approaches, I've decided to end my month-long exile.
Rather than picking up a shirt from the piles on the floor, I flip through my mostly bare closet, skipping the pit-sniff test. I wonder if the red buffalo plaid is too bright against my fish-belly white complexion. My eyes look sunken, more underlined by dark bags than ever before. I try on a few more shirts before deciding on a subdued plaid, blue with white and green.
At the back of a closet shelf I find some partly congealed hair gel. I'm not a "product" guy but tonight is different. Gel and toothpaste, a private reminder that Tommy is changing.
I turn and tilt and eye my reflection from different angles, my eyebrows lifting as I assess.
There, not such a dork anymore.
Feeling a surge almost like confidence, for good measure I practice a few dance moves in front of the mirror. Okay, best to stay off the dance floor.
Feeling decidedly uncool, on the short drive I give myself a pep talk.
I'm going to walk in there and talk to people. That's right, talk to people.
At the Rock Inn, I step into a turbulent current of flannel and facial hair. The smell of craft beer and wood smoke mingles with the press of human bodies. Light shines from the vaulted log ceilings and people seem to bounce off the wooden support beams. A banjo player commands the stage, rocking out while an impressively racked moose head stares from the wall behind him. The fireplace and wood stove duel for heating supremacy.
I look around, hoping that maybe my buddy Shannon decided not to show. I can easily slip out, unnoticed and unmissed. A moment later, I see a figure across the room waving me over. I wade into the crowd, knowing that the test of my resolve is about to begin.
• • •
Beth and I wavered, fought, made up. Six times in seven months I made the twenty-three-hour drive between Colorado and California. I worked on being alone, and trying to learn that alone didn't mean lonely. I was confident when climbing, but my sense of worth and self-assurance always seemed to end there. Nevertheless, I inched toward an appreciation of my newfound freedom.
At one point Beth blamed my parents, my dad more than my mom, for our failed marriage. She had long felt that my dad was such a domineering presence that I lived my life trying to please him more than her. Sullen and angry, she insisted that we could never fully be happy until I was free of him. If it came down to it, did I want to be a husband or a son? As a last-ditch effort to show Beth I would do anything to keep our marriage together, I typed a painful letter to my parents, basically blaming my dad for everything.
Download


Copyright Disclaimer:
This site does not store any files on its server. We only index and link to content provided by other sites. Please contact the content providers to delete copyright contents if any and email us, we'll remove relevant links or contents immediately.