Himalaya Bound by Michael Benanav
Author:Michael Benanav , Date: January 10, 2018 ,Views: 1143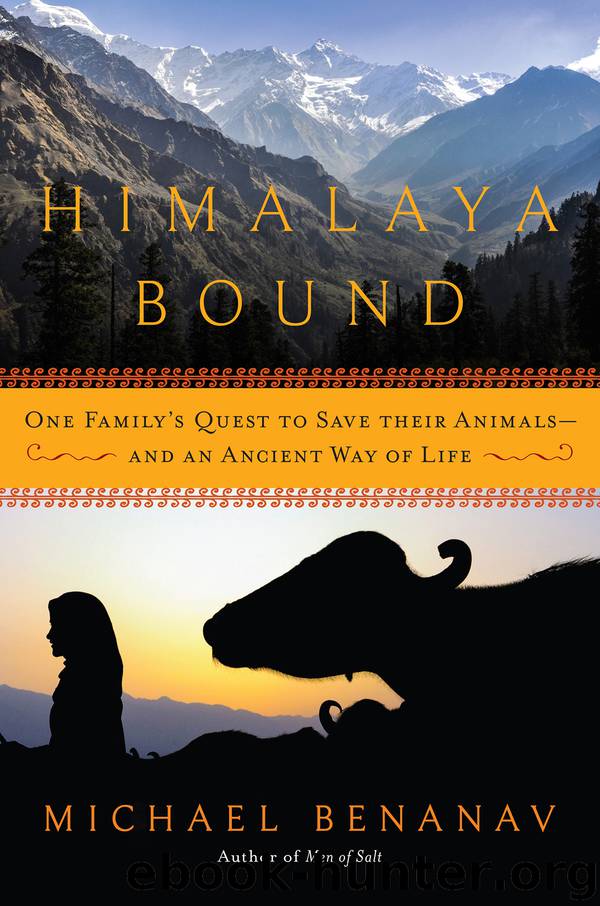 Author:Michael Benanav
Language: eng
Format: epub
Publisher: Pegasus Books
Published: 2017-01-10T05:00:00+00:00



Every morning, we were awake and moving long before daybreak. Dhumman, Mir Hamza, and Bashi—along with Yusuf and a couple of his sons—would start off in the darkness with the buffaloes, which walk more slowly than the pack animals. Meanwhile, Jamila, Roshni, and the rest of the family would load everything on the bulls and horses, then follow. Eventually, the cargo caravan would catch up with the buffalo herd and, often, everyone would arrive together at the next camp. I usually travelled with the pack animals, since Jamila had more use for me than did Dhumman. Our goal was to get off the road as early as possible, since automobile traffic became heavier as the morning progressed. With drivers whipping around blind curves and veering recklessly when passing us, it was frighteningly obvious that vehicles were the greatest physical danger on the migration.
When we were lucky, we camped in small fields on the outskirts of the villages we travelled through. Other days, we parked ourselves on the highway's narrow shoulder, with a cliff falling away behind us and the road directly in front of us. We cooked right there. We ate right there. We slept right there. We looked like homeless refugees, with all of our belongings piled up around us, cook fires smoldering, children napping, sprawled out in the dirt at the pavement's edge. Cars and trucks sped by, unnervingly close, throwing up plumes of dust. I was sure someone was going to get killed, probably one of the little kids. But no one else seemed overly concerned. Of course, in India the margin between life and death is often measured in millimeters, so perhaps a hunk of metal and glass hurtling past with only six inches to spare is no cause for alarm, and I was just having a hard time adjusting my hyper-vigilant American sensibilities of spatiotemporal danger to local standards.
After reaching our camping spot, the routine was more or less the same each day, a variation on a theme. One crew, led by Dhumman and Yusuf, would take the buffaloes down to the river, where they'd have access to water and, ideally, could find something on which to graze. Meanwhile, another crew stayed with Jamila and Roshni to set up camp, gather firewood, haul water, cook and watch the children. A couple of people would be sent into whichever village we were staying near to sell milk and buy supplies. No one had a permanent job, and each person played a number of different roles, including me. Some days I'd help Dhumman with the herd, other days I'd stay around camp with Jamila.
When they weren't busy with chores, the young women often socialized together under Jamila's tent, since she was more easy-going than Yusuf's wife Roshni—like the "cool mom" at whose house all the neighborhood kids like to hang out. Mariam, in particular, spent quite a lot of time at our tent, as she was especially close to Appa and Goku. Khatoon and Akloo often came over, too.
Download


Copyright Disclaimer:
This site does not store any files on its server. We only index and link to content provided by other sites. Please contact the content providers to delete copyright contents if any and email us, we'll remove relevant links or contents immediately.