iGen by Jean M. Twenge
Author:Jean M. Twenge , Date: September 29, 2017 ,Views: 4612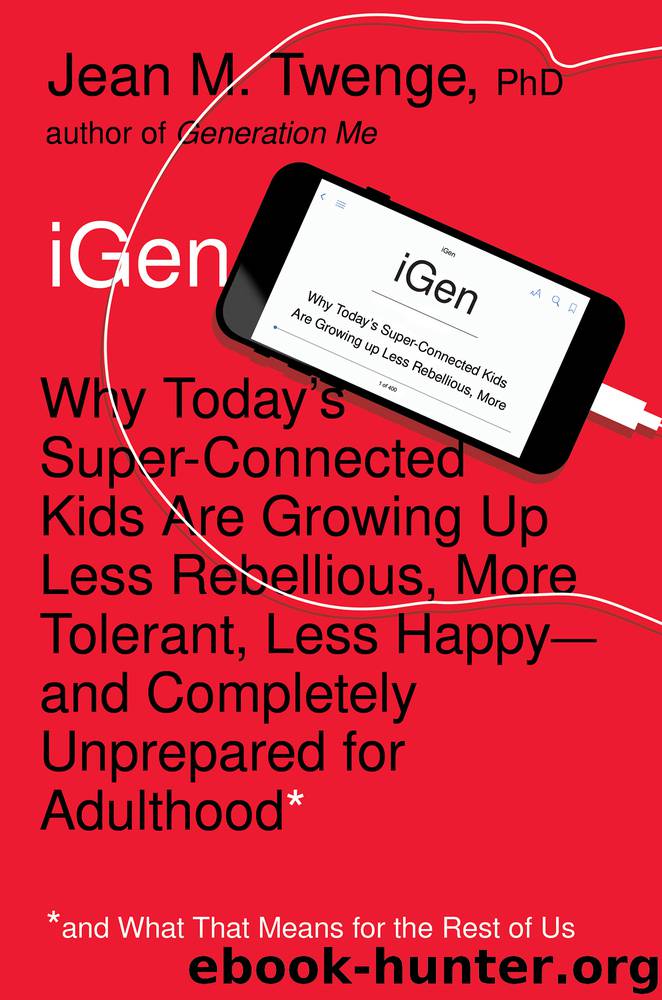 Author:Jean M. Twenge
Language: eng
Format: epub, mobi
Publisher: Atria Books



Sex in the Tinder Generation
In 2015, a Vanity Fair article announced that Tinder and other hookup apps had created a "dating apocalypse." It was now the norm, it declared, for young people to easily locate multiple sexual partners and avoid committed relationships. "You can't be stuck in one lane . . . . There's always something better," noted one young man. "You can meet somebody and fuck them in 20 minutes," Brian, 25, told the reporter. "It's very hard to contain yourself."
Like most pieces documenting hookup culture, however, the Vanity Fair article was a collection of a few stories—mostly stories of people who hang out in bars. It vividly captured what a certain segment of the generation—the more promiscuous segment—is doing. However, it's tough to tell from talking to people in bars what the average young person is doing, because those who aren't as promiscuous aren't there. The reporter also didn't think to compare this scene to the bar and nightclub scenes of the 1970s and 1980s, where there was plenty of casual sex going on. To understand average behavior and how it's changed, it is of course better to rely on nationally representative surveys that compare generations. Fortunately, the General Social Survey has done just that.
It's true that iGen'ers' and Millennials' attitudes toward sex differ from those of young people just a decade before. As late as 2006, about 50% of 18- to 29-year-olds believed that sex between two unmarried adults was "not wrong at all"—about the same as in the 1970s. Then approval of premarital sex shot upward, with 65% of young people in 2016 declaring it "not wrong at all" (see Figure 8.1).
Download


Copyright Disclaimer:
This site does not store any files on its server. We only index and link to content provided by other sites. Please contact the content providers to delete copyright contents if any and email us, we'll remove relevant links or contents immediately.